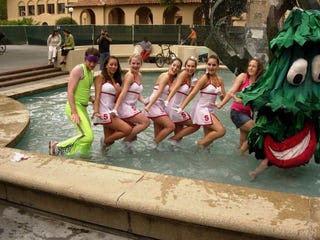 More sexy shenanigans involving cheerleaders and the Stanford Tree have been unearthed; this time in broad daylight, on campus. What is this strange power the tree seems to have over women?
Last week we brought you coverage of the Stanford Tree and and cheerleader booty-licking allegations, which included a response from the tree itself. But now other photos have surfaced. Are these Stanford cheerleaders, or will they turn out to be, as before, band members posing as cheerleaders?
I think that an interview is in order. Oasis, after band practice? Stanford Tree, please email me.
Thanks to The Sports Culture for digging these up.

By Popular Demand: More Of The Wacky Stanford Tree [The Sports Culture]