For the first time since 2011, we've got a final that appears to have some legitimate bad blood. The Penguins walloped the Predators 6-0 to take a 3-2 series lead, and a blowout is just the thing to increase tensions. The war of words between P.K. Subban and Sidney Crosby boiled over into a ground-and-pound clinic, and the now-regular late-game jawing session erupted into real punches and 100 penalty minutes. Sunday in Nashville is going to be one hell of a time.

You've probably seen by now the video of Crosby kneeling atop Subban, and everyone's going to see exactly what they want in it. (And whatever you think, Subban did not "[have] it coming," as Mike Milbury idiotically claimed.) Crosby is pushing Subban's head into the ice. Subban has his arms wrapped around Crosby's leg—Crosby does try to get up but Subban's not having it.
Crosby and Subban got matching minors for holding, and Predators coach Peter Laviolette was livid, saying, "I don't understand it. I saw my guy's head get cross-checked into the ice 10 times."
Subban's comments were bland, of the "I'm not a ref" variety. Crosby wants you to know that Subban started it:
"I don't know what he was doing … he was doing some kind of UFC move on my foot. I don't know what he was trying to do. I was trying to get out of there. He had lost his stick. He's just trying to hold me down," said Crosby.
G/O Media may get a commission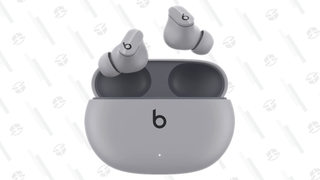 In the second period, Crosby got involved even from the bench. Mattias Ekholm, Subban's blueline partner, took a swing with his stick at Chris Kunitz deep in the Penguins' end. As play went the other way, Crosby tossed his water bottle toward Ekholm.
I'm kind of digging Crosby embracing the heel turn here. For a transcendental player, he's just so oppressively boring. His game is filled with moments like the Subban scrum ahead, if not always so obvious. They're usually somewhere in that gray area between dirty and crafty. He's got a lot of pest in him, actually, and if a large subset of fans are going to hate him regardless, why not just lean in fully? Crosby played an incredible game last night—he's been incredible throughout this series—and no one can ever say this version of Crosby, with a little extra aggression, a little nastiness, was "boring."
The nastiness spread down both benches. As the game was solidly out of hand in the third, some bumping and slashing between Roman Josi and Patric Hornqvist devolved into a pair of satellite fights, with Evgeni Malkin scoring a takedown on Josi and Viktor Arvidsson trading punched with Carl Hagelin.
Fighting for show, or in an attempt to swing momentum, usually disappears on the playoffs because teams are smart enough to realize the risks are real and the rewards are not. So when the gloves drop this late in the postseason, you know it's because they really, really want to punch each other.
Let's go to the slo-mo on Arvidsson making Hagelin's hair bounce:
Later on the third, because there was still blood to shed, Colton Sissons gave a cross-check to the face of an off-balance Olli Maatta.
Sissons was assessed a match penalty, which means he's automatically suspended until the league declares him active. But I think it's highly unlikely he won't be back for Game 6.

And what a Game 6 it's going to be. The Predators are backed into a corner, but they'll be at home, where they're 9-1 in the playoffs. The Nashville crowds have been rowdy all spring, but now there's blood in the water, and there'll be an extra off-day for everyone to get further riled up. There may be too much on the line for the Preds players themselves to risk bad penalties or fisticuffs, but I bet their fans will pick up the slack.