It was a back-and-forth game in Oakland that ended with a Janikowski field goal, included a vicious hit on Darius Heyward-Bey that has him in the hospital as we speak, and saw an absurd Ben Rothlisberger performance wasted, which is the only way a Ben Rothlisberger anything knows.
GUTSY Play-Calling: An inauspicious to start for Oakland: on the very first play from the line of scrimmage, Ryan Clark intercepted a Carson Palmer pass. That set up a drive for the Steelers that would have ended just as badly (but instead resulted in a TD), were it not for this, on 4th and 1, off the no huddle, a completion to Mike Wallace for the first and then some: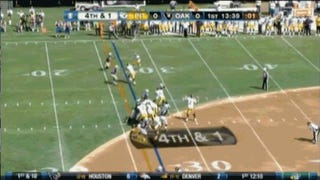 Regular-Sized Darren: The Raiders immediately answered—well, Darren McFadden immediately answered—with this 64 yard touchdown run. Nice defense at the end there, way to push him directly into the end zone: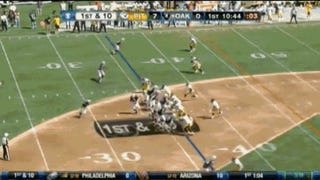 Pray For DH-B: Here's the brutal hit on Darius Heyward-Bey that opened the fourth quarter. Heyward-Bey was taken to the hospital with a neck injury a concussion off the play; our man Burke caught him giving the thumbs up as he was carted off. No flags were thrown on the play.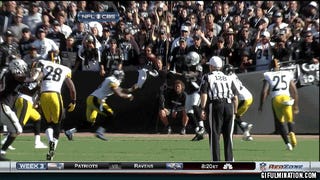 Janikowski Doesn't Miss: Has there ever been a more fun kicker than Sebastian Janikowski? Has there ever been one whose uniform fit tighter? No and no. Five plays after the Heyward-Bey injury, Palmer threw a touchdown to get the score to 31-28. A Pittsburgh fumble, a Janikowski field goal, a Pittsburgh punt, and then this: Janikowski wins it, as he so often has, in the years where the Raiders were in a position to win games: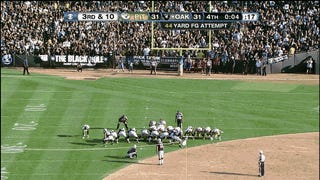 Ben Rothlisberger may have thrown for 384 yards, 4 TDs and no interceptions (holy shit, he did) but Janikowski steals the spotlight and ours hearts. (1-2) Raiders 34, (1-2) Steelers 31.