When Joe Paterno emerged from his house on McKee Street last night to address the gathered students and supporters, he mentioned, as he struggled to thank them for showing up, a phone call: "I'm out of it, maybe, now," he said. "That phone call put me out of it. But we'll go from there, OK?"
The phone call he was referring to, of course, is the one that came from John Surma, chairman of the PSU board of trustees, that officially relieved Paterno of his duties.
"We did have a phone conversation," Surma said at the press conference, after repeatedly saying that he'd rather not "characterize" the nature of Paterno's dismissal over cries of disgust from the gathered journalists. "We were unable to find a way to get to do that in person without causing, we thought, a greater distraction..."
G/O Media may get a commission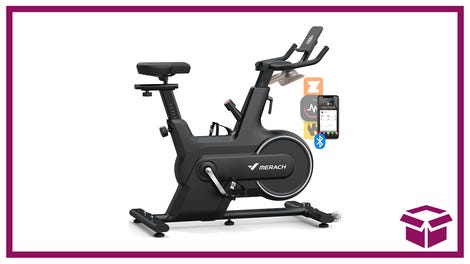 14% off + Coupon
Merach Indoor Cycling Bike
ESPN's Joe Schad had the surreal details of that phone conversation last night:
Paterno received at his home an envelope from a messenger with a # to call 15 minutes b/f BOT announcement
When Paterno called he was told "you are relieved of your duties."
That might explain Paterno's being "out of it" on his porch soon after. It's not very often that life mimics a spy movie.