The 19-year-old male died of an apparent heart attack at work. His work was fucking.
The deceased, a horse named Lion Hearted, was indeed a stud. He boarded for the last 14 years at Northview Stallion Station, a farm in Chesapeake City, Md.
His workplace, and the site of his demise, was Northview's breeding shed, where during his peak years he was doing the deed with up to three mares a day, always with lots of people present and the mare's legs often chained together. Most controlled horse hookups produce a baby.
"There's no love involved. It's like a factory," a former Northview manager once told the Baltimore Sun when asked about watching two horses get to work.
The humans and restraints are there to keep things from going wrong. But on May 28, something went horribly wrong for Lion Hearted as a session climaxed. He came and went, so to speak.
G/O Media may get a commission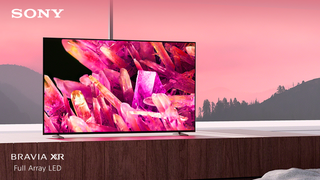 $400 off
Sony 55 Inch 4K Ultra HD TV X90K Series
"He dropped right outside the barn," says Paul O'Laughlin, whose title at Northview is bloodstock manager but describes his duties as "horse pimp." "It was quite a shock for everybody."
Vets for the farm ruled his heart failed. O'Laughlin declined to divulge the name of Lion Hearted's last mare, but said as of a week ago it was too early to tell if one final conception resulted. Along with coping with the loss of a living, breathing fixture at the farm and a steady breadwinner for the last 14 years, those left behind are now pondering the oddness of how Lion Hearted went out.
Medical science and Nelson Rockefeller's obit will tell you that sex can be deadly for humans. A study published in the Journal of the American Medical Association in 2011 concluded: "Acute cardiac events were significantly associated with episodic physical and sexual activity." A round-up of heart attack research written up for AARP members in 2013 told readers that somewhere around 1.3 to 2.2 percent of myocardial infarctions were related to sexing. The most famous example in U.S. history comes with Rockefeller's 1979 death in a New York apartment while trysting with a mistress.
But horses aren't supposed to die, well, in the saddle. They aren't afflicted by clogged arteries or other types of heart disease that plague their two-legged counterparts. And thoroughbreds are built to withstand much more stress than breeding puts on a heart.
"The actual act takes about 30 seconds," says Kevin Conley, an expert on equine fucking and author of Stud: Adventures in Breeding. "And while it may be an exciting 30 seconds, it's really not a strenuous 30 seconds, not for a horse that can run a mile in two minutes."
O'Laughlin, 45, says he's only heard of one similar stud death in a lifetime spent in the horse business, mostly on the breeding end. It's a realm where Eugenics thrives, where the goal is to build the master racehorse by pairing the right semen with the right egg. (Artificial insemination and any sort of cloning are banned; only foals produced from a live sex session are allowed to race.) At the stud farm, every potential customer wants to know who's your daddy. And your grand-daddy.
If only he could have talked, Lion Hearted could have answered all queries about his bloodlines proudly. His dad was Storm Cat, the greatest stud of his generation. Storm Cat's stud peak came in the middle of the last decade, when he commanded $500,000 per successful cover. "He was clearing $50 million a year in fees," says Conley. That assumes 100 live births per crop to customers paying 100 percent of Storm Cat's advertised rate.
Sounds crazy, for sure. But the racing biz is full of crazy numbers. And lots of folks who played the Storm Cat lottery came out ahead. The New York Times reported in 2002 that at yearling auctions the previous year "20 of Storm Cat's offspring attracted an average price of $1.74 million." A Storm Cat yearling named Mr. Sekiguchi sold for $8 million at Keeneland in 2004, or 16 times the stud investment. Alas, Mr. Sekiguchi earned just $85,800 in his four career starts. Then in 2005 at the same sale, another Storm Cat yearling, Jalil, sold for a record $9.7 million, then went on to bring his investors only $327,324 in race earnings. Storm Cat kept plugging away in the shed until 2008, when he was 25 years old, after his handlers determined his semen count was flagging. He died in 2013.
Lion Hearted's family tree had other regal branches, too. His grandfather on his mother's side was Alydar, who back in 1978 had finished second in the Kentucky Derby, the Preakness, and the Belmont to Affirmed, the last Triple Crown winner before American Pharoah (a great-grandson, as it turns out, of Storm Cat). And Lion Hearted's paternal great-grandfather was the Babe Ruth of horse racing, Secretariat.
Those are some big hoofs to fill. But Lion Hearted, after his own middling racing career—he retired from the track as a four-year-old with $191,000 in winnings, but no major stakes wins, which are put in bold type on a stallion's resume to catch investors' eyes—came out of the gate fairly strong when he went into studding. In 2004, when babies from his first crop at Northview started running, the farm booked him with 130 mares for the season, which for most stud operations runs from Valentine's Day to the Fourth of July. He had a $5,000 fee, which, while only 1 percent of his daddy's banging wage, adds up to real money over the course of a season. Payment was due as soon as "a live foal stands and nurses," O'Laughlin says.
Lion Hearted's offspring had a few brushes with greatness—a grandson, Commanding Curve, came in second to California Chrome in the 2014 Kentucky Derby—but, without any winners of his own on the biggest stages, he slowly lost his appeal among horsemen.
"Stallions are like women's clothes," says O'Laughlin. "They can fall out of fashion pretty quickly. When they're not commercial enough, people look elsewhere."
So the hardcore prospectors brought their mares to other sheds. His stud fee for 2015 was down to $2,500.
"Lion Hearted was a hard knocking stallion," says Cricket Goodall, executive director of the Maryland Horse Breeders' Association. "But he wasn't going to bring the big number at auction because he'd never hit the ball out of the park."
Lion Hearted's paternal great-grandfather Secretariat at Aqueduct, 1973. Photo via AP
---
But not everybody in racing is looking to get a Jalilesque payday out of mating their mare. Horsemen knew they had a very good chance of getting a runner from any hookup with Lion Hearted. According to the database of Bloodhorse, a clearinghouse for thoroughbred breeding info, Lion Hearted sired 616 horses of racing age, with 77 percent making it to the track and 57 percent going on to win at least one race. At the time of his death, he was ranked as the second-leading sire in Maryland for 2015, based on the earnings of his offspring. And even if Lion Hearted didn't live up to his bloodlines, over time, he proved to be a bargain: In 2010, he had the highest earnings-to-stud-fee ratio of any stallion in the U.S. Total racing earnings for Lion Hearted's progeny as of this week are $25.6 million. His two-year-olds earned more last year than any other Maryland stallion's, so that number will continue to get bigger over the next several years.

Death put Lion Hearted out of the business just as things were looking up all over. Maryland, historically a major breeding center, almost fell off the racing game radar a few years ago. Horsemen decried the lack of slot machines, revenues from which enriched their peers in Delaware, West Virginia and Pennsylvania. Those states were picking up business that once would have been Maryland's.
"You can say all you want about tradition," says Goodall, "but people are going to follow the money."
There are lots of reasons to be optimistic about the sport's future in Maryland and elsewhere, however. Maryland voters approved slot machines in 2008, with a portion of the gaming revenues directed toward the state's racing industry. Bonuses for winners born or bred in Maryland are a major component of the slots subsidy. According to the Maryland State Lottery Commission, which oversees gaming earmarks, as of this week $41,938,851.99 in slots revenues has been deposited in the Horse Racing Purse Dedication Account during the current fiscal year. It took a while for gambling authorities to get their act together—the state's first major casino didn't open until 2012—but the impact on the industry was immediate and undeniable, Goodall says: Only 368 thoroughbred foals were registered in the state in 2012; in 2013, the last year for which breeding stats are available, that went up to 431. "And this year we'll be close to 600," Goodall says.
There is also the investment of Kevin Plank, the Maryland-bred founder of Under Armour. In 2007, Plank bought Sagamore Farm, a historic breeding operation founded by the Vanderbilt family nearly a century ago in Reisterstown, inside Baltimore County, but was almost out of the business before the apparel magnate came to the rescue. Plank has spent millions of dollars on renovations that he hopes will bring the operation back to its former glories. In a 2011 interview with Baltimore Magazine, Plank boasted that the farm "will deliver the next Triple Crown winner."
Plank's handicapping, of course, was off: Earlier this month, American Pharoah took the Belmont Stakes to become the first Triple Crown winner since Affirmed in 1978. Pretty much everybody in racing expects to reap trickle-down benefits from that milestone and any other exploits the nation's new equine hero treats us to while still racing. His owners claim they intend to run the horse again, the most likely spot being the Breeders' Cup Classic this fall at Keeneland. The event wasn't founded until 1984, or six years after the previous Triple Crown. As Conley points out, that means American Pharoah will be the first horse in history with a chance to win an equine Grand Slam. Win or lose in Kentucky, American Pharoah will, like Lion Hearted, spend the rest of his life fucking.
Lion Hearted is survived by about 600 sons and daughters.
---
Contact the writer at dave.mckenna@deadspin.com. Illustration by Jim Cooke