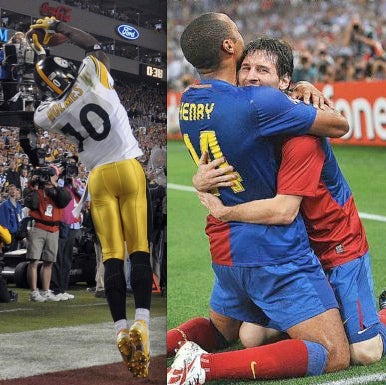 There's gnashing of teeth in America and self-congratulations in Europe over a report that the Super Bowl is no longer the most popular sporting event on the planet. Not so fast. Let's not count our broadcast shares before they hatch.
Future Sports + Entertainment put out a report on Monday, trumpeting that the Champions League Final drew 109 million viewers worldwide, compared to 106 million for Super Bowl XLIII.
That was Super Bowl's best ever figure, and as an event it's still growing," said Kevin Alavy, an Initiative director. "Extraordinarily, the Champions' League is growing faster, with room for further significant expansion."
So, if you want to be blunt, more people watched Barca complete the treble than saw the Steelers edge the Cardinals. That's indisputable. European visitors can stop reading now.
For the rest of you, let's break down the numbers a little. The population of Europe is 731 million at best guessing, making those 109 million viewers 14.9 percent of the continent. The latest census report pegs the population of the USA at a hair over 304 million, meaning 34.6 percent of people tuned in.
Now you're saying to yourself, not only the USA watches the Super Bowl. It's on in many countries. You'd be right, but it's barely significant. Indeed, the average US audience was 98.7 million viewers. So only about another 7 million from outside the nominal target market watched.
But the Champions League final appeals to more than just Europe. Add in the Asian parts of Turkey and Russia, and the UEFA nations of Armenia, Georgia, Kazakhstan, Israel, Cyprus, and Azerbaijan to get the market. And don't forget the huge viewership in Asia — so huge that they're moving this year's final to Saturday to better capture it.
Do I sound like an American desperately trying to cling to his nation's sport's primacy in the global market? I suppose I am. But sheer numbers don't tell the whole story as well as percentages. And I'm willing to bet next Monday, you'll be able to stroll into work and talk with everyone about the previous night's game. I wonder if they can say the same in offices in Macedonia after the Champions League Final.
Elite clubs on Uefa gravy train as Super Bowl knocked off perch [The Independent]