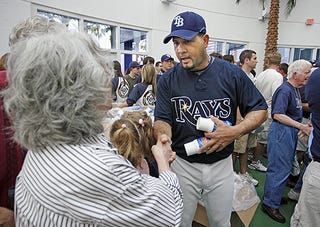 It's true: The Tampa Bay Rays' fans are actually acting like their team is in first place. With last night's non-violent victory over the Red Sox, the fervor will become even more intense if the Rays take this series.
Just think back to those old Bill Simmons columns where he used to make a trek to Tropicana Field and marvel at the empty seats, the dusty, catheter-wearing fanbase, and the no-name roster. Whither Tanyon Sturtze?
No, now the Tampa Bay Rays have a team that everyone in baseball loves to gush over and the ownership is bound to get a little more support for its shiny new stadium plans if the Rays can keep this up.
And what these Rays have done, more than anything else, is give lowly, rudderless teams hope. Like the Pittsburgh Pirates:
The Tampa Bay Rays reached a new franchise high water mark when they went 17 games over .500 for the first time ever this weekend. They are ahead of the Yankees in the standings and they are battling the Red Sox for first place in the American League East.

And they are doing it all on a payroll of $5.5 million dollars less than the Pirates, a payroll that is second from the bottom in all of Major League Baseball.

The Pirates will never be the Yankees. But they sure could be Tampa Bay. The Rays and Pirates are baseball's two least successful franchises the last decade. It would appear that one of them has figured a way to get out from under that.
Dream big, Pittsburgh. You too are just one awful Mets trade away from being baseball's new small-market dynasty.
Look Who Has Fans Now [With Leather]







Pirates Can Be Rays [Pittsburgh Tribune Reveiew]
Ray Pride Parade [Josh Q. Public]