The Texans' 27-20 loss to the Raiders might have looked very different had a call or two gone Houston's way, and a visibly pissed Bill O'Brien had to hold his tongue after the game to avoid getting fined.
The first questionable call came in the first quarter, on what looked like a 60-yard touchdown pass to DeAndre Hopkins. But the officials ruled that Hopkins stepped out of bounds at the Raiders' 36. Did he? Here's a screengrab:
Even in motion it's tough to tell. But the important point here is that this is not a reviewable play. It was blown dead by the line judge and the field judge (both of whom had good angles), and per the rules, you can't advance the ball on a replay review because that gets into the realm of the hypothetical.
"Was Hopkins out of bounds on that play? No," O'Brien said. "Did he look out of bounds to you? I had the flag out, but they told me I couldn't challenge."
The Texans ended up settling for a field goal on the drive. NFL VP of officiating Dean Blandino explained the call in this video, which he says fails to conclusively show whether Hopkins stayed in bounds or not.
After the game, Hopkins insinuated that the officials "were leaning toward the Raiders."
Some even more egregious officiating went down with about 10 minutes left in the fourth quarter, in a tie game. It looked like Lamar Miller might have gained a first down on this third-and-2 carry:
Strangely, the officials spotted the ball just about exactly where Miller's knee touched in the above screengrab, and not where the ball was when the knee touched down.

Facing fourth-and-a-foot, O'Brien decided to go for it rather than kick a field goal that could have given Houston a three-point lead. "We needed a touchdown," O'Brien said.
The play was a handoff to Akeem Hunt. And again, it sure as hell looked like he got it: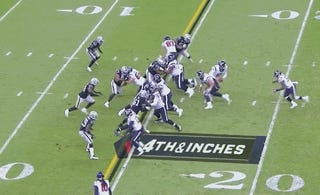 Yet the officials spotted the ball, measured, and ruled that the Texans had come up short. O'Brien challenged, but the call stood.
"I could have challenged both calls," O'Brien said. "I'm not going to stand here and get fined. I'm just a third-year coach. But with all these cameras and things we have and we can't get that right?"
There are some weird overlapping what-ifs here that make it hard to know whether to criticize O'Brien's decision to go for it, but it's not hard to blame the Texans for believing they got well and truly boned throughout this game.