What do you do when your husband is no longer interested in committing lane violations in bed? Sue the bastards who ruined your sex life! Kimber Kennedy is not fooling around, one might say.
University of Mississippi men's basketball coach Andy Kennedy was arrested in December for assaulting a Cincinnati cab driver, as you may recall; a charge he denies. The resulting litigation has been so stressful to the coach that he and his wife have not been able to have a normal sex life, according to a lawsuit filed by his wife, Kimber.
Kennedy's wife sued that cab driver and a valet driver who backed his claims to police and the media, saying their accusations had harmed the couple's sex life. Kennedy, who was in Cincinnati as the head coach for the University of Mississippi, was charged Dec. 18 with misdemeanor assault after police said he punched cabbie Mohamed Jiddou while shouting racial slurs at him after leaving a downtown bar.

The basketball coach sued Jiddou and valet Michael Strother for defamation the day after his arrest, and Kimber Kennedy filed a lack of consortium suit Dec. 22 against the pair.
Lack of consortium? You can sue for that?
If nothing else, this is turning out to be a headline writers' dream. From New York's WLTW.com: Coach's Wife Sues, Claiming Lack Of Playing Time. Ha.
G/O Media may get a commission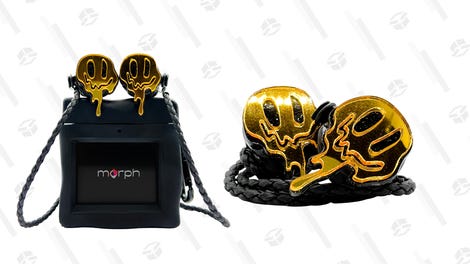 morph audio
Morph Earphones
Coach's Wife Sues, Claiming Lack Of Playing Time [WLWT.com]
Andy Kennedy's Wife Has Lost That Lovin' Feeling [Friends Of The Program]