When the University of Minnesota's softball team gathered for dinner to watch the NCAA tournament selection show, spirits were high. The Big Ten champs went a school-record 54-3 this season, and were ranked second in the last coaches poll and 11th in the RPI.
Only 16 teams are seeded for the NCAA softball tournament. Those seeds host a double-elimination pool of teams; the winner advances to the super regional. Gophers coach Jessica Allister said she was positive her team was going to get one of the 16 seeds in the tournament and host a regional. She thought they might get a high enough seed to host the super-regional as well. As a result of the best season in school history, the Gophers might not have to play a game off-campus until the Women's College World Series.
She was wrong. Minnesota was left out of the seeded teams by the NCAA selection committee. To make things worse, they were placed in the same super regional as Florida, the top-ranked team in the RPI and No. 2 in the polls. Wait, it gets even worse! A new coaches poll was released this morning, and guess who the No. 1 team in the nation is: the unseeded Minnesota Golden Gophers. Somehow, a team that is regarded by the coaches as the best in the country is not regarded as one of the 16 best by the selection committee.
At a press conference yesterday, Allister was candid. She said she was mad. She made a dig at the committee ("National seeds by a committee of people sitting in a room aside…"). And she explained what made the snub particularly harsh:
I think when you go back and you look at our preseason schedule. We go to Texas and play Texas twice, we go to the Big Ten/ACC Challenge, sweep Notre Dame and N.C. State, go to LSU, beat LSU on their home field, go to Fresno—who's a top-20 team last year—beat Fresno, go up to Washington, to go Cal, go to Oregon State. It's a tough thing to swallow when you hear that schedule's not good enough because I'm not quite sure what else we could have done in the preseason.
But at the same time, that's all out of our control. It's by far not the biggest injustice done to anyone in the world yesterday, you know. And life's not fair.
G/O Media may get a commission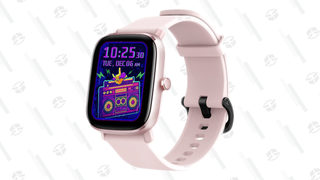 20% Off
Amazfit GTS 2 Mini Smart Watch
Get fit
Has built-in Alexa so you can ask questions and carry your smart assistant around with you; it has a battery that can last up to 14 days, has over 70 different sport modes, is 5ATM waterproof, and tracks stats like your heart rate, calories burned, sleep, and more.
Players on the Gophers said that being unseeded for the tournament was a shock. "It was kind of silent," sophomore infielder Maddie Houlihan said. "I thought it was, like, fake. I didn't really know what was happening.… mad, sad, angry, whatever. It took a couple minutes to digest it."
The selection committee put Minnesota seventh in a ranking it released on May 6. At the time, the committee said that ranking was "based on the criteria used to select and seed the 64 teams for the Division I Softball Championship and include strength of schedule, Rating Percentage Index, head-to-head competition, results versus common opponents, significant wins and losses and locations of contests." Yet between that ranking and the end of the season Minnesota—which went 6-0 in the interim—fell from seventh to out of the top 16.
The NCAA released a statement saying Minnesota didn't have enough quality wins. It also added that the late-season rankings it released absolutely did not mean a thing:
When selecting the top 16 seeds the committee emphasizes a team's performance against Top 25 teams along with other variables including strength of schedule. Additionally, two regular-season rankings were released, however, the rankings are not used by the committee when determining the seeds and final bracket that was released yesterday.

When the committee compared Minnesota against other teams being considered for the top 16 seeds, Minnesota did not have as many regular-season Top 10 and Top 25 wins as compared to other teams. The teams that were selected as the 16 seeds had at least one or more Top 10 wins and between four to 18 Top 25 wins. Minnesota did not have any Top 10 wins and only two Top 25 wins.

Furthermore, Minnesota's strength of schedule was 114. The top seeded teams had strength of schedules ranging from 1 to 36.
As the St. Paul Pioneer Press noted, Minnesota was just 2-2 against the RPI top-25 this season. But the Gophers did go 16-3 against other tournament qualifiers, in a schedule where 41 of its 57 games were on the road or at neutral sites this year. (As a northern softball team, Minnesota opens the season mostly with trips to the South. The Gophers didn't play their home opener until the 34th game of the season.)

"Well, the RPI's a tricky animal, right?" Allister said. "And then it's just a formula. Depending on how different people do, or how one pitcher feels on any given day, changes the whole thing. So I think to on one side say we don't have top-10 wins, so then you're giving the RPI credit. And then in the other breath to say but this formula we care so much about that has you at 12, we don't care about it there. And then go back to strength of schedule, which we already got dinged for because we have the best record in the country… that logic doesn't make sense to me."
Graham Hays, a reporter who covers various women's NCAA sports for espnW, was in agreement:
All 13 SEC teams made the field of 64. One of them is Alabama, which is hosting the regional where Minnesota is playing. The Gophers play Louisiana Tech on Friday in their first game of the NCAA tournament.