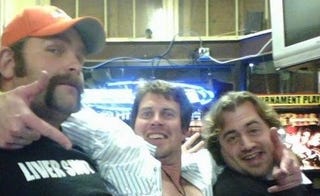 Unfortunately, this photo of Ryan Leaf isn't a recent one. Nope, it's from January of 2008. The man who took the photo emailed us to share what exactly happened that evening.
I remember it was 20 degrees out, that Ryan was underdressed and possibly over-beveraged, and that he chugged the beer of the dude on the right and then paid him $100...I actually took it, after he bounced into the Missoula Club (or "Mo Club") shirtless...[I] remember it was 20 degrees out; I found this worthy of recording for historical purposes. It all went down before he left West Texas A&M, and I was pretty sure one of my buddies' buddies would send it into your Website before now.
Just a note - the highlight was Leaf paying $100 to drink a beer belonging to the dude on the right.
Long story short, Ryan Leaf paid for steak and eggs at Finnegan's.
The photographer that evening would like to be known as an "anonymous professionally trained journalist" so we'll grant him that.
In other Ryan Leaf news, Busted Coverage found some more photos of The Great White Hope/New Blue Blood getting felt up and kissed by adoring fans. At least he kept his shirt on.
Ryan Leaf Will Let Men Kiss Him/Grab His Man Cans [Busted Coverage]