Drew Magary's Thursday Afternoon NFL Dick Joke Jamboroo runs every Thursday during the NFL season. Email Drew here.
I went to the Barclays Center for a concert last weekend and up in the rafters of that joint is a banner commemorating the eight sold-out shows that Jay-Z performed to open the arena. Now, that banner is there because Jay-Z used to own part of the Nets and also owned a whopping one-fifth of one percent of Barclays Center, a stake he sold away this fall. But the banner is still there, and it's complete horseshit.
As someone who has never attended the Pitchfork Music Festival, I am not obligated to like Jay-Z. You didn't WIN anything, Jay-Z. Imagine Dan Snyder throwing up a banner in FedEx Field because his kid won a dressage competition (should be forthcoming shortly). This is nearly as lame. THIS IS BANNER INFLATION, and it the scourge of the modern professional sports facility.
The Patriots have that infamous 16-0 banner. The Vancouver Canucks have a banner for winning the President's Trophy (but not the Stanley Cup). The Edmonton Oilers have a consecutive sellouts banner. The Saints have a banner for selling out the 2006 season:
[Update: OK, maybe that one deserves an exemption.]
And both Billy Joel and Elton John have their own banners hanging in Madison Square Garden (at least they didn't have to buy a stake in the joint to get the banners up there). We need to set some ground rules for what deserves to be on a banner (or a pennant, or a wall of fame) and what doesn't, because someone as rich and famous and widely beloved as Jay-Z shouldn't need a fucking commemorative bedsheet just to satisfy his own ego. Here is what should earn you a banner:
G/O Media may get a commission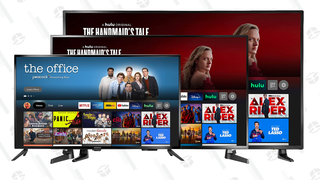 Up to 44% off
Prime Early Access - Insignia Fire TVs
1. Hall of Fame player's retired number
2. Major pro sports championship
That's the list. That's all you get. Some shitty teams that have never won anything will hang banners for division championships and conference titles (almost justified but still not a title) and sellout streaks just to fill the ceiling and that is WEAK. If you've never won a title, that ceiling should remain dead and empty—a constant reminder of your failings as a professional sports franchise. Let that physical void be a spiritual void as well. Every other banner is a waste of time.
Now, before we get to the Jamboroo, a quick PROGRAMMING NOTE: I won't be around next week because I'll be chasing kids around and making sure they don't pull down the fireplace screen. Your replacement writer for the Jamboroo will be, as always, Deadspin founder Will Leitch. Every year he subs and every year he does a fantastic job. He's witty and compassionate and smart. I give him a B-.
The Games
All games in the Jamboroo are evaluated for sheer watchability on a scale of 1 to 5 Throwgasms.
Five Throwgasms
Saints at Panthers: If it's the end of the year, that means it's time for Pitchfork's annual roundup of favorite songs and albums. It's a FEAST of insufferable pretentiousness, as if you herded a thousand RISD seniors into a single room and forced them to collaborate on a single paragraph. Picking the most overwrought passage is an impossible task, but let's try this one!
"Dreamhouse" achieves the acrobatic paradox of being weightless and enslaved to gravity at once, emotionally as well as sonically.
Oh, that's perfect. All that's missing is the word "monoculture." We're all slaves to gravity, when you think about it.
Patriots at Ravens: When the Lions scored a touchdown and took the lead late against the Ravens on Monday night, Jim Schwartz walked out from the sideline and threw up the WE'RE FUCKING GOING FOR TWO sign, which has to be one of the most gratifying things you can do as a coach. They ALL walk 20 yards out onto the field to give that signal. I would pay three dollars to attend a camp where you do nothing but make emphatic hand-gesture commands at football players and refs. WE'RE GOING FOR TWO! TIMEOUT! TIMEOUT MOTHERFUCKER! I make those hand signals at home all the time when I'm watching. Really lets the team know what I need from them.
Four Throwgasms
Bears at Eagles: It's Christmas and you need last-second gifts to buy for people you don't care about (that's everyone but you). Not to get all Peter Kingy on you, but here's a list of kickass books for your loved ones. I recommended some of these before, but I'm posting them again in case you can't find the old recs. I deal strictly in books about murder and/or people being lost at sea.
Over the Edge of the World, Laurence Bergreen
Devil in the Grove, Gilbert King. Any book with the word Devil in it is bound to be great
Island of the Lost, Joan Druett
Frozen in Time and Lost in Shangri-La, Mitchell Zuckoff
The Murder of the Century, Paul Collins
Endurance, Alfred Lansing
Killing Pablo, Mark Bowden
Into Africa, Martin Dugard
Unbroken, Laura Hillenbrand
Conquistador, Buddy Levy
Hellhound on His Trail and Ghost Soliders, Hampton Sides
The Devil in the White City, Erik Larson
The Monster of Florence, Douglas Preston & Mario Spezi
The Long Walk, Stephen King (writing as Richard Bachmann)
Carter Beats the Devil, Glen David Gold
Skeletons on the Zahara, Dean King
The Kid Stays in the Picture, Robert Evans
City of Thieves, David Benioff
Columbine, Dave Cullen
Midnight in the Garden of Good and Evil, John Berendt
Positively Fifth Street, James McManus
The Things They Carried, Tim O'Brien
The Lost City of Z and The Devil and Sherlock Holmes, David Grann
Any Jon Krakauer book, especially Into Thin Air
Any Mary Roach book
Also, I wrote a book this year. No one is murdered in it, which was a glaring oversight on my part. I'll try harder next time.
Colts at Chiefs
Three Throwgasms
Cardinals at Seahawks: There are two NFL teams that have nicknames that overlap with baseball teams (Giants and Cards), and that can make for a bit of extra work searching for their shit on Google. It got me wondering whether the baseball team or the football team would win in a GOOGLE FIGHT. Let's check the stats! If you Google CARDINALS, you get four top results each for the St. Louis Cardinals (SMARMINALS) and the Arizona Cardinals, which I found shocking. I figured the baseball team would romp in the top nine (the top nine is rounded out by Catholic cardinals; the bird doesn't make the cut). If you Google "Arizona Cardinals" (I used quotes in the search to make sure there weren't any stray results), you get 4.4 million results. If you Google "St. Louis Cardinals," you get 18.5 million results. Some of the St. Louis Cardinals search results probably reference the old football team before they moved, but still, baseball Cards are your winner.
If you Google "Giants," you get six results for the NFL team, one result for the baseball team, two entries for mythical giants, and a link to Giant grocery stores. Google "New York Giants" and you get 34.5 million results. The baseball team gets 16 million. The football team CRUSHES it. KILLS it. SLAYYYYS it. By the way, if you search "Eagles," you get a bunch of NFL results and a couple results for the Eagles the band. Sorry, Boston College. You get jack shit.
Two Throwgasms
Giants at Lions: A lot of people have been asking about ZODIAC MOTHERFUCKER, famed Lions fan and world's greatest drunken tweeter. Zodiac disappeared from Twitter three weeks ago after taking this photo of a cop car pulling him over, with the simple caption "FUCK." Since then, nothing. So I called Zodiac (he posts his number on Twitter often), but only got his voicemail, which was glorious in and of itself. "This is Zodiac Motherfucker. I can't answer the phone right now, or I'm on the phone with some other asshole." I'll let you know if I hear back but I'm not terribly optimistic.
Cowboys at Skins: Here's my thing about the eventual shitcanning of Mike Shanahan: What about GM Bruce Allen? The narrative here in the DC area is that Allen was hired by the Skins at the behest of Shanahan. That he was hand-picked. But it's a bit murkier than that, since Allen was hired before Jim Zorn was formally terminated (initial speculation was that Allen was going to be a package deal with Jon Gruden) and has sidestepped all the shit being thrown around in DC, even though the Skins are fucking terrible and some of it—the lack of depth, the bad defense, the shitty player management—HAS to be Allen's fault. Mike Shanahan had all the personnel power with the Skins, which means Allen was either a lackey or a nonentity with the team, and neither answer is comforting. I bet Shanny gets canned and Allen gets to stick around as a kind of glorified Vinny Cerrato. By the end of his tenure, Dan Snyder will be making him serve shrimp cocktail to RGII outside the locker room.
Vikings at Bengals
Steelers at Packers
Dolphins at Bills
One Throwgasm
Falcons at Niners: Last game at Candlestick, everyone! Oh, how Chris Berman must nut his pants thinking of how much he loves that dump. The old Niners regime treated him like a team VP and that asshole ate it up like marble poundcake. Change the channel IMMEDIATELY if you see Berman waxing nostalgic about that joint this weekend.
Browns at Jets: I posted my kid's wish list for Christmas a while back and after that posted, another wish list from 1915 made the rounds, and it was basically designed to make modern parents feel like absolute shit:
"Dear Santa Claus, Will you please send me a box of paints, also a nine cent reader, and a school bag to put them in. And if you have any nuts, or candy, or toys to spare, would you kindly send me some. You will please a seven year old boy."
You listen to me, Homer Mellen. I know you can't hear me because you are no longer alive, but I promise you, if you were a child living today, you'd ask for the SAME shit my kid did. The reason kids asked for oranges and paint back in 1915 is because that's ALL THERE WAS. There were no iPods or Big Wheels. You got a box of razors and a bottle of gin to play with and that was it. Kids morph to the world around them, and if their world has cool shit in it, they'll probably want it.
Bucs at Rams: The reason I was at Barclays Center this weekend was because a friend took me to see Queens of the Stone Age and HOLY LIVING FUCK, they brought the thunder. When I was a kid, going to rock concerts was a big deal. You were so blown away by the sight of the band and the blare of the pyrotechnics and the sheer force of the music and the booze and weed that you were totally overcome. And you had yet to become a dipshit muso nerd who could hear every flaw in the acoustics. When you get older, you can sense those tiny flaws a bit more, and it RUINS the experience.
Anyway, this Queens show brought me back to being a 13-year-old seeing Metallica again. The band could do no wrong. I was hypnotized. Josh Homme could have ordered me to stab a dog and I gladly would have done it. FUCKING ROCK AND ROLL. If you have the means, I can't recommend seeing them enough. Some bands can pull off the big arena show and QOTSA is one of them. Also, there was weed all over the arena and I desperately wanted some but was too lazy to organize a deal earlier that night. This was foolhardy because there was a 30-foot tall screen with naked women with fucking globes for heads:
Tell me drugs don't make that even better. At one point, the lighters in the crowd went up and every section had a dude with a lighter and a lit joint except mine. I have regrets.
One last thing: Whenever I hit a rock show and the lights go down, I always scream out HELLO CLEVELAND! Never gets old. OK, it probably gets old.
Titans at Jaguars
Raiders at Chargers
Broncos at Texans
Christmas Song That Makes Me Want To Run Through A Goddamn Brick Wall
"Heavy Metal Christmas," by screen legend Christopher Lee! Submitted by Tom. Ever wanted to hear a metal version of "The Little Drummer Boy" sung by the dude who played Saruman? Here you go. AGAINST THE POWER OF MORDOR THERE CAN BE NO VICTORY. This is actually pretty terrible.
Suicide Pick Of The Week
Last week's picks of Atlanta, Kansas City, and Jacksonville went 2-1, making me 34-11 on the year. Once again, we pick three teams for suicide pool and one thing that makes you want to commit suicide. This week's picks are San Diego (I'll regret that), San Francisco, Denver, and changing your address. People in this country used to move all the time, but that trend is in decline, and the reason is because changing your address is a complete and utter pain in the ass. In the old days, when you moved, you sent a form to the post office and got a new phone number and everything was easy. Now, your address is registered at five million places: Amazon, Apple, the cable company, etc. I would kill myself if I had to change that shit one by one. When my kids grow up, they'll move (God I hope so) to some shit apartment and stay there for LIFE because changing your address is such agony.
Gregg Easterbrook Is A Haughty Dipshit
HOOVER DAMN! Your fair columnist can't figure out why a graduate of an ELITE SCHOOL like Princeton would make for such a lousy football coach!
Game in and game out, the Dallas Cowboys, led by a Princeton graduate and representing the state that is the center of American football culture, display low football IQ.
HOW CAN THIS BE? This is not a good eating! Anyone who attends a school that stresses fine graduation rates and isn't some MEGABUCKS ME FIRSTINESS MILL can't possibly be incompetent!
The Stadium Gods Chortled:
Wait, there are stadium gods as well now? Are they the same as the football gods? Do they demand cold coaches and hot tits? Do they push field goals wide if they do not receives these tributes? I MUST KNOW.
On Monday night, Detroit lost to Baltimore on a 61-yard Justin Tucker field goal with seconds remaining. The defeat was the price Lions fans pay for sitting indoors in comfort. As the kick boomed, outside the temperature was 8 degrees Fahrenheit — — there is no chance such a long kick would have succeeded if the game had been played outside in weather, as the football gods intended.
If they played in an outdoor stadium, there's also no chance that Detroit would have built its roster around a pass-first offense, and the game itself would have had a completely different outcome. But sure, OK. Everything would have stayed the same except the FOOTBALL GODS (not to be confused with the stadium gods, who were probably busy shooting dice) would have altered Justin Tucker's kick jussst so because playing in colder weather makes you more ethically sound, or something.
But Detroit thoughtfully provided ideal kicking conditions for opponents, and now sees its playoff hopes fading.
So true. Even though Detroit's kicker also benefits from indoor conditions, that's why they failed Monday night (COUGH****threeturnovers****COUGH)
During the news conference, (Mike) Shanahan repeatedly referred to the Persons' owner as "Dan." An NFL custom is that owners are always addressed as "Mr." or "Mrs." This is a feudal affectation to be sure; but a firm unwritten rule of the league.
So then it's OK? Feudalism is cool if it's not written!
Shanahan's repeated use of "Dan" shows two things: the Ultimate Leader condescends to the owner, and Shanahan wants to get fired
I think you can infer that Shanny wants to get fired from one of the other thousand things he did and said last week, no? I think Gregggggg is genuinely offended that Mike Shanahan—who is OLDER than Dan Snyder—isn't adhering to the custom of addressing Snyder like he's his fucking homeroom teacher.
Last winter when car shopping, I promised readers to report my choice:
I HOPE IT WAS A DAM-FRIENDLY CAR.
... which was an Acura TSX manual-transmission model.
YES!
My goal was a sports sedan with decent gas mileage (25 mpg) and not too much power (201 horsepower), plus a stick shift while they still exist. That narrowed the field quite a bit. I occupy the moral high ground because my family's four previous car purchases were of vehicles built in the United States: anyway now that Detroit is recovered, partly at public expense, buyers should feel good about choosing whatever marque seems best to them.
Of course you occupy the moral high ground. Do you ever occupy the moral low ground, Mr. Easterbrook?
"Alpha House," the Amazon television show written by Doonesbury cartoonist Garry Trudeau and produced by bestselling author Jonathan Alter, is a total hoot.
(Blurb shockingly not written by Larry King)
The fall's ratings hit, "The Blacklist," consists entirely of nonsense.
Sour sour sour. Not once does James Spader show his ID to the Feds.
Great Moments In Poop History
Reader Ryan sends in this story I call ANYONE GOT CHANGE FOR A POOPER?:
Back in like 8th grade, my friend and I thought it'd be funny to shit into a vending machine. As you would imagine, it took a good amount of ingenuity to accomplish such a feat. Several obstacles stood in our way. Firstly, this vending machine was located in a public park. So obviously, this needed to be a quick shit. Any more than 30 seconds of straining and we ran the risk of horrifying some small child. Not to mention, this particular park was located about 200 feet from a police station. So we also ran the risk of getting busted for public defecation. After some deliberation, we decided against the direct deposit method. Neither of us had the anal propulsion skills to shit horizontally anyway.

We decided our best bet was to produce the shit elsewhere and transport it back to the vending machine. Luckily, there was a bathroom nearby. My friend proceeded to pinch out a growler, catching it in his toilet paper covered hand below. After the coast was clear, we returned to the vending machine and made our deposit. Our original plan was to wait in hiding for some sorry sap to buy a Fanta or something. We'd watch him deposit his quarters. We'd giggle as he searched the ground around him for the source of the wretched odor. And finally, we'd break into jovial laughter when he lifted his shit-stained orange soda from the machine, screaming in horror. Unfortunately, we did not get the satisfaction. With dinner-time approaching, we had to make our treks home. We eagerly returned to the same park the next morning to see what chaos we'd created. Would we find an "Out of Order" sign taped to the machine? Would we discover dozens of unopened shit-stained Fantas littering the ground? Or even better: would the poop still be there? Would we still have an opportunity to see our prank play out live!? Turns out... no. When we got to the park, the vending machine was gone. It vanished into thin air. There were no "Please do not shit in the vending machine" signs. There was no new surveillance cameras installed. Nothing. It was like the vending machine never existed.
In case you didn't already know: teenage boys are the fucking worst. Just the absolute worst. I fear my two sons growing.
Emmitt Smith's Lock of the Week!
"This week, I like the Raiders (+10) to go into San Derecho and snack the Chargers all over the feel! To me, this is a classic TRAMP GAME. You got San Derecho coming off the ditzying high of beating the Broncos, so they are now clearly in danger of having a LEZDOWN! It's only natural. It's hard to keep an even kill. Every season has its pinks and valets! EGG AND FLOW."
Emmitt Smith 2013 record: 6-8-2
Fantasy Player Who Deserves to Die A Slow, Painful Death
Well, if you played against him, Jamaal Charles. I mean, imagine going into a playoff game. You're excited. Maybe you win your league for the first time ever! And then Jamaal comes along and STOMPS ON YOUR DREAMS. I'd be inconsolable.
In our league, Charles was in one of the consolation games. Imagine watching him save that performance for when it's meaningless to you. So much bitterness. Fantasy football is nothing but a factory for bitterness.
Fire This Asshole!
Is there anything more exciting than a coach losing his job? All year long, we'll keep track of which coaches will almost certainly get fired at year's end or sooner. And now, your potential 2013 chopping block:
Gary Kubiak—FIRED!
Mike Shanahan***
Leslie Frazier
Jim Schwartz*
Mike Munchak
Greg Schiano
Mike Smith
Rex Ryan
Mike Tomlin
Tom Coughlin
*-Potential midseason firing
Schwartz really moved up the Fireability chart with that loss last week. I wonder if the Lions are consulting with Zodiac Motherfucker about new hires and that's why we haven't heard from him. I'm all for Pantera being named the next Lions head coach.
Gametime Snack Of The Week
Turtles! The only boxed chocolate that is aptly named in two distinct ways. It looks like both the animal turtle and the turtle that pokes out of you when you've eaten too many turtles. I have a theory that 60% of all boxed chocolates are consumed the week before Christmas after being put out on a conference room table. Like you'd turn down free chocolate.
Gametime Cheap Beer Of The Week
CHIBUKU! The beer that comes in a carton. People, this might be the most terrifying beer yet. From David:
You really should try Chibuku, known colloquially as "Shake Shake." Stored and drank warm out of one liter milk carton-like containers, I defer to Wikipedia for the description: "This thick brown millet beer costs less than a dollar and it is shaken vigorously before drinking it because of its thick layer of sediment collected on the bottom of the carton. It has a powerful yeast flavor that is offset by a lemony tang, surprising given the color. When the liquid has been consumed and you reach the bottom of the carton, standard practice is to slurp up the pile of sludge that remains." The carton proclaims, "It's hygienic." Apparently, it goes without saying it tastes like an alcoholic porridge of death. Wikipedia notes, "It is thought to be a drink for lower-class people." All I can say is it certainly is popular in some segments of society here in Malawi, which shows you the country has larger problems than Madonna.
Have you ever heard of a beer that you had to SHAKE before drinking? That's remarkable. I'm scared to death of this beer. It looks like a UNICEF aid package gone horribly awry. I MUST HAVE IT.
Robert Evans's MVP Watch!
Time to start thinking about who the leaders will be for the NFL's MVP award. So every week, legendary Hollywood producer Robert Evans will join us to give us his assessment. Take it away, Mr. Evans.
"Baby, my favorite for NFL MVP is Peyton Manning of the Broncos! I see that my dear friend Will Ferrell has another Ron Burgundy movie coming out. Funny? YOU KNOW IT. Provocative? THE MAN TAKES RISKS. Few people know this, but Ron Burgundy is actually based on a real news anchor that I knew back in the 1970s. Name? Farley Barnsworth. Pussy? He took all of it. Barely left any for the other boys! Ol' Farley was such a renowned cocksman that—legend has it—any time he seduced a woman and found himself making that majestic first thrust, he would scream out THIS JUST IN so the whole neighborhood could hear. Usually happened about 1am every night. Great guy? The greatest."
Sunday Afternoon Movie Of The Week For Texans Fans
A Christmas Story, as always. I'd like people to stop trying to make Love Actually the official Christmas movie, perhaps at the expense of this movie. HOW DARE YOU. That movie doesn't even take place in AMERICA. I don't think. I've never seen it. It's probably quite charming. I STAND BY MY ANGER.
Gratuitous Simpsons Quote
"Isn't there anything faster than a microwave?"
Enjoy the games, everyone. Merry Christmas!
---
Drew Magary writes for Deadspin and Gawker. He's also a correspondent for GQ. Follow him on Twitter @drewmagary and email him at drew@deadspin.com. You can also buy Drew's book, Someone Could Get Hurt, through his homepage.