Dan Shanoff writes a weekly college football column for Deadspin. Email him to let him know what you think.
Here is the flimsiest argument I have heard about how (and where) to value a team right now:
"Because They're Unbeaten."
Why can't I buy it? Because in addition to totally discounting reasonable factors like, oh, strength of schedule, it is so inconsistently applied, by pollsters and fans alike.
Why is Ohio State No. 1? Because they're unbeaten. Not because they have played a challenging schedule so far. Not because they have any "signature" wins over great (or even very good) teams. But, let's all agree: Because they have the biggest brand name among the five remaining unbeaten teams.
Why is Boston College No. 2? Because they're unbeaten. Their early-season wins over Georgia Tech and Wake Forest just aren't that impressive a month later. Let's agree why they are the consensus No. 2: Because human pollsters remember Doug Flutie.
G/O Media may get a commission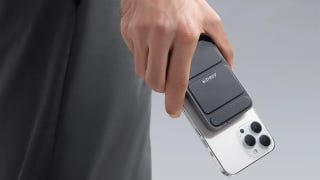 15% off
15% off Anker Top Ten Products
Take charge
Treat yourself to a portable power bank, a magnetic wireless battery for iPhones, or even a solar generator. There is a reason these are in the top ten. For instance, the Anker 747 Power Bank is a 4-in-1 charger utilizing USB-A and USB-C to be capable of charging up to four devices at once. Great to take with you when traveling and in need of keeping your phone, laptop, and even Nintendo Switch powered on.
(The BCS computers now rank B.C. ahead of Ohio State. Then again, the computers rank one-loss LSU ahead of Ohio State, too. Be honest: Does anyone really doubt that on a neutral field, the Tigers wouldn't throttle both? But I digress...)
OK, so if you buy the "Because They're Unbeaten" thing, then how does that explain how Arizona State (ranked 4th by BCS computers) is ranked 7th/8th by the BCS' human pollsters and 7th by the AP?
And if you're one of the group who support the "Tyranny of the Unbeaten," why is undefeated Kansas ranked 9th in the BCS and even worse (as crappy as 12th) by the human pollsters?
If "unbeaten" matters so much, how does one-loss Oklahoma rank 4th across all three major human polls (AP, Harris, Coaches), even after the Sooners lost at Colorado, where the Jayhawks just WON this past weekend? (Let's not even talk about Oklahoma's escape Saturday at mighty 1-7 Iowa State.)
I'm not suggesting that Kansas should be in the Top 4, simply because KU is unbeaten. It's precisely the opposite: "Unbeaten" must be taken in context of the season, which is generally provided by the soulless computers, while we frail humans can't help but see "Ohio State" and think "Oh, if I HAVE to pick an undefeated team and the other unbeaten choices are Flutie, Pac-10 and a basketball school, then the Buckeyes MUST be No. 1."
I'm not immune: Once you get more than halfway through the season, "And-Oh" is the sultriest come-on in college football. That's why I've got 4 of the unbeatens in the Top 7 of my BlogPoll ballot this week. Because, confirming what so many Ohio State fans emailed me last week, I suck.
I have that, even though I'm pretty convinced that every team in the Top 20 with one loss (and most of the teams with two losses) could beat any of the remaining unbeaten teams on a neutral field. Again, the reason I don't reflect this in my own BlogPoll ballot is: Because I suck.
I'm with Sunday Morning QB's Matt Hinton: Strength of schedule should matter. Big wins over those strong teams should matter. That's why, if the season ended today and we applied the latest BCS computer ranking, BC would get smoked by one-loss LSU for the national title — and Ohio State would be playing Arizona State in the Rose Bowl, with nothing on the line except both teams would be going for their first meaningful win of the year.
Meanwhile, for all the jokes about the Jayhawks' strength of schedule, Kansas has the closest thing to a quality win out of any of them (at Kansas State). That's why B.C.'s game at Virginia Tech on Thursday is so huge: If the Eagles win, it would be "signature win" legitimacy that eclipses any other "big win" of the Top 10 BCS contenders.
And that's why if "because they're unbeaten" simply reflected how title-worthy a team was, Boise State would be the reigning national champ. (I'd take last season's Broncos over any of the five unbeatens this season, too.)
More from This Weekend: There's no way to put this delicately: LSU's Les Miles has bigger balls than any other coach in college football, and the only reason I'd think he wouldn't be at Michigan next season is that they can't deal with a coach who has such a huge pair.
Anyone out there lose (or win) money because Kentucky, a 7-point underdog, lost by 8 after not kicking that extra-point after their game-ending TD as time expired, which would have forced a push.
In a season of shocking upsets, may I nominate Vanderbilt beating BCS formula-favorite South Carolina in Columbia, while beating Steve Spurrier for the first time ever (holding him to six points, no less). No wonder Spurrier was in the mood to crap on Ohio State...
OK, I think it's safe to say that Notre Dame has finally hit rock bottom. (OK, maybe a home loss to the service academies. OK, no: A home loss to Duke. That would do it.) Amazingly, even as bad as they suck, you know there are probably two dozen bowl games out there that would give them an invite if they could...
For the rest of the season, I propose we relegate Minnesota to 1-AA and promote North Dakota State into he Big Ten.
This Week's BlogPoll Top 10: As I mentioned above, I lack all conviction to walk the talk. I am beaten down by the Tyranny of the Unbeaten. My final BlogPoll ballot version is due Tuesday night; maybe I'll find the strength before then. (You know it's an all-time great season in college football when your own existing finely honed sense of self-loathing can be enhanced even more by the process of filling out an effing Top 25 ballot.)
1. Ohio State
I can't look myself in the mirror.
2. Boston College
Season made or broken in Blacksburg.
3. LSU
Sure are living dangerously.
4. Oregon
Game of Their Year: Hosting USC.
5. West Virginia
Lurking in shallow 1-loss pool.
6. Kansas
Did what Oklahoma couldn't.
7. Arizona State
Time to start proving it.
8. Virginia Tech
One W over BC from legitimacy.
9. South Florida
Still can point to two huge wins.
10. Florida
Turning into last year's LSU.
Click here for my complete ballot. I am happy to acknowledge that the entire thing is a mess, particularly after No. 10 (if, wading through the morass that is 1-10, you can believe that even possible).
Looking Ahead to Next Saturday:
With only five unbeatens left, the focus turns to how many will stay that way (next week, up to four could fall) — and the jockeying among the best 1-loss teams (Oregon, LSU, West Virginia, VA Tech, Oklahoma) to rack up impressive "quality" wins (or trying to avoid unimpressive unquality wins... I'm talking to you, Oklahoma fans).
Boston College at Virginia Tech (Thursday): Coming off my pick that USF would lose last Thursday at Rutgers, I'll double down.
Pick: Virginia Tech.
Ohio State at Penn State: Can OSU fans really look deep down and claim that their team is the BEST in the country? Based on WHAT, exactly?
Pick: Ohio State.
Cal at Arizona State: So Cal goes from BCS lock 10 days ago to mere spoiler to the Sun Devils' season. Sucks to be them.
Pick: Cal.
Kansas at Texas A&M: OK, it's been fun, but it's just about time for the Jayhawks' ride to end, isn't it?
Pick: Texas A&M.
USC at Oregon: Suddenly, the winner of this game could very well earn the inside track on being the top-ranked 1-loss team in the BCS.
Pick: Oregon.
West Virginia at Rutgers: Nothing would avenge WVU ruining Rutgers' Cinderella season a year ago like Rutgers KO'ing the 'Eers BCS hopes.
Pick: WVU
Florida at Georgia: Only because it's the best nickname of any regular season game in sports: "World's Largest Outdoor Cocktail Party."
Pick: Florida
As usual, direct any comments, questions or complaints to danshanoff-[at]-gmail-[dot]-[com].