I joined the guys over on Orlando's 740 The Game yesterday morning to talk about our little dip bracket because my job is ridiculous and so is Florida. You can check out the audio here if you're interested in hearing how I cooked this thing up [GROAN], or what my predictions are for the finals, or how my name is pronounced. (It's pronounced 'Care'. Because I ... well, you know.)
The impressive showing by Chipotle in the Salsa Division was a hot topic; I'm sorry to report that it fell to Pico de Gallo in this last round of voting. While a loss is a loss is a loss, Chipotle deserves some recognition for its exceedingly strong 49 percent to 51 percent showing against Pico. Good game, Chipotle. Good game.
Some more food for thought [GROAN] as we move into the Divisional Finals:
Were you surprised to see #4 seed Pub Cheese more than hold its own against a powerhouse of a #1 seed, Onion Dip? Good on ya, Pub Cheese! With 38 percent of the vote, however, ultimately it wasn't hardy enough to claim victory over a perennial favorite.
Elsewhere in the Creamy/Cheesy Division, Queso handily knocked out heavyweight Ranch and a nation rejoiced as its native pride was restored. USA! USA! USA! WE WILL NOT LIVE UNDER THE YOKE OF OUR HIDDEN VALLEY OPPRESSORS! GIVE US PROCESSED NEON CHEESE OR GIVE US DEATH! SOARING EAGLES AND SHEAVES OF WHEAT!
The Plantlife Division is now an exercise in how it's not easy being green, pitting #1 seeded Guacamole against #2 seed Spinach & Artichoke Dip. This is one to keep an eye on—there's a pretty vocal anti-guac contingent, but I'd put money on the avocados having it all locked up.
Speaking of which! Here's a discussion point for the group: Of the remaining 8 dips, is Guacamole the only one that has the potential to be truly bad? Like, I've had HORRIFYING guac, but I feel like the rest are sort of like pizza, even when they're bad, they're still pretty good. Yea? Nay? What sayeth you?
The Meat/Poultry/Seafood Division is down to just meat and poultry, with 3 seed 7 Layer/Taco winning handily over 2 seed Crab Dip. I checked in with Burneko to make sure he was holding up okay, but I haven't yet heard back. He took the Tzatiki thing pretty hard; I don't know what this devastating loss will do to him.

I'm real worried about Albert, you guys.
The next round of polling is now open, get in there and vote before Noon EST tomorrow (Friday, January 31) and we'll check back in tomorrow when the real fun begins: Pitting Creamy/Cheesy against Plantlife, and Salsa against Meat/Poultry/Seafood.
(In case the polls don't display below, click the links to vote.)
G/O Media may get a commission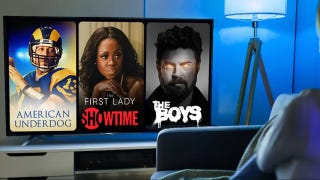 UNDER $1
99¢ Prime Video Channels