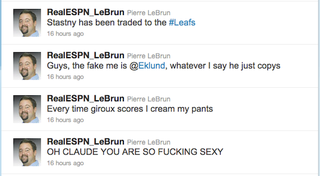 The deadline is minutes away, but already the NHL has seen some major movement: Brad Richards to the Leafs, Marty Reasoner to the Canucks, Dustin Penner to the Canadiens...oh wait, none of those moves actually happened. They were all reported by fake Twitter accounts impersonating hockey writers, and promptly retweeted by fans and media members.
@RealESPN_LeBrun is the granddaddy of them all, "breaking" news of the Richards trade to Toronto yesterday evening. That got a ton of play, being thoughtlessly passed on as fact until the real Pierre LeBrun altered everyone to the fake account. (Fake LeBrun also warned his followers about the impostor, the real LeBrun.) Today it was fake Gord Miller (@tsngordmiller instead of @GMillerTSN) reporting Reasoner was headed to Vancouver. That got enough play where the real LeBrun had to make a call to find out it was fake.
Top it off with fake Nick Kypreos (@RealKyper_ instead of @RealKyper) sending Penner to Montreal and you've got chaos.
There's a lesson in here somewhere, and the prankster behind Gord Miller seems to be aware of it. He's calling out media members who are falling for the fake Tweets and relaying them as news without checking them out first. For you, the fan, the lesson is this: if you see some big news Pierre LeBrun Tweeted, check out his account. If "Pierre LeBrun" only has 16 followers, please don't pass it on.