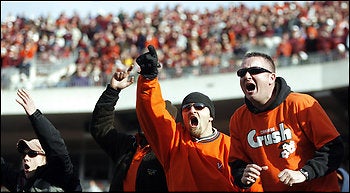 You have hurt Al Groh's feelings for the last time, Virginia fans. The Cavaliers' troubled and sensitive head coach — who really only wants to be loved — has taken a lot of abuse from Virginia fans over the past two seasons. It's in part because of his $1.7 million contract, and in part due to things such as exhibit A: The Cavaliers' 52-7 loss to USC on Saturday. So the University has institured a policy: No Al Groh signs. In fact, no signs, period. I blame student David Becker, who displayed a sign that read "Fire Groh" at a game last season, and had it confiscated. "Becker then wrote the same message on another sign, which was also taken away, along with a third he scribbled on a piece of paper."
"The first thing I thought was, 'Oh my God, I can't believe this. I probably had something to do with this,' " Becker said. "I don't want to be known as the guy whose sign caused all signs to go away. … I think when the players look up into the crowd, and they see signs rooting them on, it's just another show of support."
Land of Thomas Jefferson, birthplace of free speech, represent! The university seems to be on solid legal footing, however.
According to Josh Wheeler, the associate director of the Thomas Jefferson Center for the Protection of Free Expression (ironically, based at UVa and headed by a former president of the university), the blanket ban on any and all expression actually raises fewer constitutional concerns than the original policy. You see, the university isn't making a judgment about the content of a sign or banner … everything is banned.
Mr. Jefferson Would Be Quite Shocked [The News And Advance] Virginia Bans Signs, Like 'Fire Al Groh' [Atlanta Journal Constitution]