The United States Men's National Team lost 2-1 to Jamaica in the semifinals of the CONCACAF Gold Cup, the first time they have failed to advance to the finals since 2003, when they were knocked out in the semifinals by Brazil's U-23 team. A U-23 team that featured players like Kaka, Maicon, Robinho, Thiago Motta, and Adriano, to be fair.
It's always difficult to evaluate performances in the Gold Cup that occurs after a World Cup year. The 2018 World Cup is still three years away, and the fourth round of CONCACAF World Cup qualifying—where the regional powerhouses like the United States and Mexico enter, but always advance from—isn't until November. Should this tournament be about winning? Bleeding in new players? Evaluating which veterans will still be able to contribute in three years? All three?
Defensively, at least, Jurgen Klinsmann, decided to test his center backs of the future. The 22-year-old Ventura Alvarado started four of five games, while the same aged John Anthony Brooks started three of five. Both started against Jamaica, and were directly culpable for letting in their first goal. Darren Mattocks—being marked by both Brooks and Alvarado, as well as two other USMNT players—got his head on a throw in to loop it past Brad Guzan:
The second goal, scored just a short time later, was a beautiful free kick, given away when Guzan was judged to have handled the ball outside of the box.
G/O Media may get a commission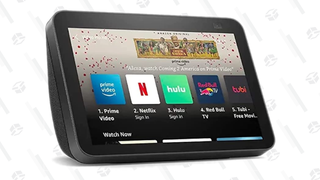 The United States generated a handful of chances in the second half, but many of them, including their eventual goal, were due to goalkeeper error. Jamaica's Ryan Thompson spilled a number of catchable balls back onto the pitch, and Clint Dempsey was able to pounce on one, keeping the ball alive long enough for Michael Bradley to slot it home. A Thompson bobble led to a gilt-edged chance that Aron Johannson wasted, and he was barely able to deflect a Bradley shot that completely flummoxed him onto the post. Towards the end of the game, despite Jamaica having retreated into a shell, the United States opted to loft 40-yard-passes into the box, which obviously didn't work.
This is neither a disaster nor no big deal for the USMNT. Practically, the most important consideration is they will now participate in a playoff later this fall to determine CONCACAF's representative in the 2017 Confederations Cup. As the 2013 Gold Cup winner, if the United States had won this year they would've gotten an automatic bid. As is, they'll play the Jamaica v. Mexico/Panama winner to determine who gets to go.
Making the Confederations Cup is a pretty big deal, and it is not inconceivable that Klinsmann will be fired if they fail. The Confederations Cup is held in Russia the year before the World Cup, and features eight teams: six continental champions, the tournament hosts, and the 2014 World Cup winner. It is a great chance to play three to five competitive matches, as well as get a feeling for Russia and its stadiums. Remember the 2009 Confederations Cup, which saw the USMNT's thrilling 2-0 victory over Spain, as well as going up 2-0 on Brazil (remember Charlie Davies?) before coughing up the lead in a 3-2 loss.
But more philosophically, where does this leave the USMNT? We are almost exactly four years into Jurgen Klinsmann's tenure—he was hired after the Bob Bradley-led squad got waxed 4-2 by Mexico in the finals of the 2011 Gold Cup after going up 2-0—and it's not clear that the squad is materially better than before he was hired. He has successfully recruited some players with dual citizenship, particularly German-Americans, to choose the United States, and at times the team has played a more aesthetically pleasing brand of attacking football, but the results haven't been all that inspired.
Sure, the USMNT now occasionally beats world powers like Italy and Germany in friendlies, but the competitive results don't look materially better than what Bradley achieved, or even, dare I say it, Bruce Arena. They made it out of a tough World Cup group on goal differential and while the score didn't quite reflect it, were clearly the a far inferior team in their Round of 16 match against Belgium. They muddled through this tournament, grinding out uninspiring one-goal victories over Honduras and Haiti, before drawing Panama and crushing a beset-by-defections Cuban squad. And Jamaica isn't even historically one of CONCACAF's better teams.
Maybe this is where the United States tops out in soccer for a little while, as a near-automatic World Cup qualifier that is no threat to advance deep into the tournament. Maybe there is a bumper crop of 20-to-22-year-olds—who benefitted from some of the changes Klinsmann made to America's youth soccer setup—who will come of age just in time for the 2018 World Cup. Maybe Klinsmann is more the disaster that he was coaching Bayern Munich than the revolutionary that he was coaching Germany. Maybe the United States just had a bad tournament.
I don't have the answers, and I'm not sure that anybody else does either. What I do know is that the USMNT looks like it is stuck in the mud, spinning its wheels, and we're asking the same "when is the United States going to figure soccer out" questions we've been asking for the better part of the past decade.
---
E-mail or gchat the author: kevin.draper@deadspin.com | PGP key + fingerprint | Photo via Getty