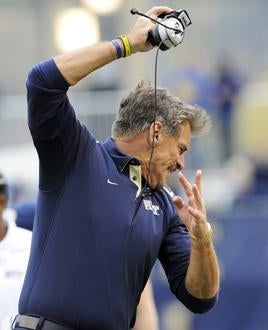 Every morning, the fine folks at Sports Radio Interviews sift through the a.m. drive-time chatter to bring you the best interviews with coaches, players, and personalities across the sports landscape. Today: "Please, Dave!" they all cried. But still no.
Wannstedt joined 93.7 The Fan in Pittsburgh to talk about whether or not his former players had expressed an interest in having him coach the team's Bowl game against Kentucky this Saturday, his response to those who criticize his decision to not coach the Compass Bowl, how and why he's confident in his decision to not coach Pitt's final game this season, if he's been contacted by Steve Pederson about returning as head coach, if the Pitt chancellor has talked to him about possibly becoming athletic director, and how the recruiting situation is undeniably going to be affected by all the uncertainty and instability at the top of the Panthers' program.
On if the players had expressed interest in wanting him to coach them in the Compass Bowl against Kentucky this coming Saturday:
"You know what? Yes, initially there was a very strong feeling about me just being a part of this thing. And then when I sat down and talked to them, I said, listen, the most important part about this from my perspective is not going down there to the amusement parks and all the social things, it's getting you guys ready to win a game. And I said I'm committed to that, I'm going to be with you all along, I said. And then when it's time to get down there and relax and have some fun, I said I'm not going to be a distraction to you. I said I don't want to be the one to have to stop in the lobby and talk to people, and do interviews. You guys get down there, have some fun, you've got the game plan, line up on Saturday, play your tails off and win the game. I said that would make me the happiest and is the best for you guys. And I know being around these Bowl games with coaches and players, once you get down there it's a fun time for the kids, and I want these kids…they deserve to have a good time. They're walking around here after the Cincinnati game, I mean, that was a pain for us. We had to win that game on the road, Cincinnati broke our heart a year ago, we know that, and those kids played as hard as they have all year long to get a piece of the Big East Championship. They need to feel that way, they need to get that feeling back again."
On local media critics (namely Ron Cook) saying that by not coaching the game, Wannstedt is letting the university and his players down:
"I would just say as I said yesterday – anybody that's going to criticize anything from that angle, they're the individuals that have lived their entire lives in the stands, criticizing, second-guessing, Monday Morning Quarterback. They've never been in the real arena of what it takes to put it in the line, get your mouths bloodied in defeat, know that great feeling of victory in a championship. That's what we're talking about here. You've got to be here, you've got to feel and taste that to really understand when decisions like this are made what's best for the kids. And I don't think there's anybody in this country that would second-guess that every decision I've made since I've been at this university – as you guys know – we run a very transparent program here, it's very clean, there's no secrets, there's no hidden agendas. Everything's'been about the school and these kids. There's never been anything self-serving that's come out of my perspective, and there never will be. So this is the best thing for the kids, the best thing for the team. They're going to go down there and have a good time. I talked to probably all the parents, they've called me. So I feel great about it. We're going to wrap it up today, and hey, they're going to go down there and [have a blast]."
On if chancellor Mark Nordenberg has made any suggesting of reinstating him since the firing of Mike Haywood just days after he was named Wannstedt's successor, and if there's been any discussion about naming him the new athletic director at Pitt:
"No on both counts. Mark and I have had several conversations in person and on the phone. He knows that I'm a University of Pittsburgh and a Pittsburgh guy, and that anything I can do to help him and this university and these kids in any capacity, that I would be willing to do. That's the truth, and that's where our conversations have been, and no further beyond that relating to either one of the circumstances."
On what his future holds after the dust settles from this Bowl game and he begins to look to 2011 and beyond:
"I've been offered a position with the University. I've had several conversations with the Chancellor regarding that. I've had conversations with Steve Pederson to some degree, but nothing has been solidified. So I'm going to take my time with my wife here afterward, get a way for about a week or so, and then come back and we'll see what their thoughts are, and then we'll go from there."
On how his situation and the turmoil surrounding the program has negatively affected recruiting:
"Well the recruiting is pretty much over for this year. And you can't blame the recruits. It's the circumstances. This week, the way they've got it structured, this week is a recruiting week and obviously they won't be recruiting, and next week is a dead week because of the convention. So because of the time factor in this whole thing, it's going to be difficult. It's going to be difficult, but that goes along with the territory of the situation."
On if he'd consider being reinstated as head coach were the Pitt administration to come to him and essentially say this was all just one big mistake:
"No, I'm focused on cleaning this thing up here today, and see what holds down the future. But I'm really kind of just taking it one day at a time."
This post, written by Michael Bean, appears courtesy of Sports Radio Interviews. For the complete highlights of the interview, as well as audio, click here.
More from Sports Radio Interviews
• Now that Jerry Jones has interviewed a black guy, he can get straight to hiring Jason Garrett.
• Jim Brown could record a fascinating commentary track for Any Given Sunday.
• Chad Ochocinco is cool with Terrell Owens, not so much with Marvin Lewis.