By pretty much every metric, the Warriors are one of the best teams in the league. They're 11-2, a half-game out of the best record in the league, lead the league in opponent-adjusted net offensive/defensive rating, and are in lockstep with the Spurs for best defensive rating. They're really good. But more impressive than that? The Dubs' top units have been busting up the league at a ridiculous rate.
Here's a tweet from SI's Ben Golliver that went around a little last night:
So the starting lineup is killing. But it actually goes deeper. According to NBA.com, here are the four-man lineups that have played at least 20 minutes together this year sorted by their net offensive/defensive rating (click expand to see the full size):
G/O Media may get a commission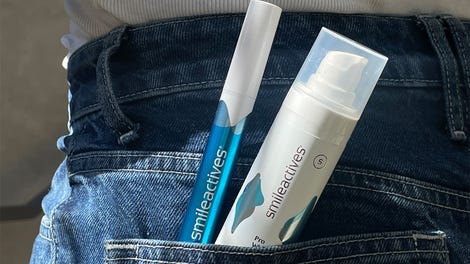 58% off
Whitening Powerhouse Pen & Gel Duo
And here are the three-man lineups, sorted the same way:
So the Warriors have eight of the top 15 four-man units and the top 11 three-man units, all made up of six guys (Steph, Klay, Green, Bogut, Iguodala, Barnes). A lot of that stems from that killer starting lineup, but more of it comes from the ability to ferry in a bench stuffed with players like Leandro Barbosa, Marreese Speights (ridiculously good this year), and Shaun Livingston into those cores without losing too much effectiveness.
We'll see if this holds up once David Lee is fully back in the rotation. One thing you'll notice about the above lineups is that Draymond Green is a mainstay in the better defensive lineups, and Lee almost certainly will not be. That affects the bigs you can swap in and out—you won't be pairing Speights and Lee too often unless you're shaving points—and tweaks to lineups on already-crowded teams can be fraught. But this is a dilemma that stems from luxury, and the Warriors fall outside the top 10 in opponent-adjusted offense right now, so they can probably find something to do with one of the better offensive bigs in the league.