The Warriors recently put the finishing touches on a sweep of the Portland Trail Blazers, and they had to wait almost a full week to find out whether they'd be playing the Clippers or the Jazz in the second round. A Warriors-Jazz series is a much more interesting prospect, because even if the Clippers and Warriors despise each other, Golden State has them so comically spooked that any animosity would be buried under an avalanche 20-point first-half deficits. Utah offers the ageless Joe Johnson, a legitimate home-court advantage, and the outlandishly shaped Rudy Gobert. The Warriors, however, seem bummed out that they missed some time in Los Angeles.

Here's Matt Barnes, who faces charges over an alleged nightclub assault earlier this year, shaking his head at Utah's dearth of nightlife compared to L.A.:
"No comparison. There's no such thing, man," Warriors' forward Matt Barnes told ESPN. "There's no nightlife in Utah. Obviously, as players, you want to be able to have a little bit of a nightlife, but the main focus is winning games. Me personally, I want to get out there because I want to beat the Clippers. That's my former team, and my kids are out there. But as far as nightlife, there's no comparison to nightlife in Utah and L.A."
Andre Iguodala, who technically signed with the Jazz before he joined the Warriors, also said Utah is boring:
"The problem with Utah is that you're just sitting there and your mind is, like, dead, because in L.A., you still got energy for the game," Andre Iguodala said. "Because you're in L.A., you're like, 'Man, this is just the vibe in L.A.' but in Utah, it can kind of lull you to sleep. And then you've slept too long or I'm bored out of my mind and now you got to try to pump yourself up for the game. You know you're in the playoffs and you're supposed to be pumped anyway, but the vibe is just like, 'Man, let's just get out of here.'"
G/O Media may get a commission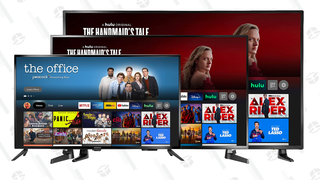 Up to 44% off
Prime Early Access - Insignia Fire TVs
In response, Jazz forward Joe Ingles jokingly suggested that Warriors players could just go to Las Vegas if they really wanted. While I'm sure clubbing wasn't the sole or even primary reason, Matt Barnes did say that the team was hoping to stay in California and play the Clippers. Draymond Green and Steph Curry both noted that nightlife isn't much of a concern to them in the playoffs, while Kevin Durant and acting coach Mike Brown even offered faint praise of Salt Lake City.
Whatever Utah lacks in nightlife, it makes up for in altitude. Perhaps the club inclined will be fresher for staying in, but they'll have to play above 4,000 feet. In the most interesting anecdote from media availability, Green said he had been eating more red meat to keep his red blood cell count high. If he needs more food recommendations, he can always hit up Boris Diaw.