The KKK is getting more sophisticated. They've got public relations people, political candidates, and now...computer geeks planning to disrupt NFL games by jamming quarterbacks' helmet radios.
American History X wrongly taught us that skinheads are obsessed with basketball. It's football (the "Negro Felon League," as they put it) that one group has declared war on for having an annual Hispanic Heritage Month.
A helpful reader, who I should probably alert the FBI about, sent in a link to one hate group's web page. I'm not going to link it here, due to some very graphic photos and overall moral repugnance. But they've done their homework.
They list the technical specs behind quarterbacks' helmet radio transmitters, which they use to relay signals from the bench. They print the default passwords and user code keys for the voice encryption modules. And most helpfully, they list the frequencies used by 26 of the teams.
Notice to all those wily hackers out there. Be sure to jam the repeater's output frequency (helmet receive)! You'll also want to wait until a pivotal point in the game to start jamming the frequency. Wait until the fourth quarter or so. You don't want to tip anyone off!
G/O Media may get a commission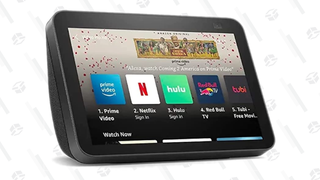 It's anyone's guess as to how useful these instructions are. But if Lovie Smith is looking for a convenient excuse for that fake punt call on Sunday...