Here is an indisputable fact, one of the very few that exist surrounding the mysterious and dreaded Wonderlic Test: the Wonderlic is not meant for football. Over 75 years, only a few thousand of the more than a hundred million test takers have been NFL hopefuls. It is a test of problem solving and cognitive abilities, and has shown a direct correlation with future job performance overall. But football is a different sort of job, one reliant on physical skills, and mental processes that may not involve knowing the age of a boy if his sister is twice his age minus eight.
Does anyone care about the results of the test? Teams don't seem to—plenty of players on the far left of the bell curve have been drafted early. Players sure as hell don't. Leaked Wonderlic scores are only good for troll battles between moralizing writers that will make you dumber for having read them.
Here's another fact: there has never been a study that shows a good Wonderlic score will translate to any sort of advantage on the football field. (This should not be a surprise. Great football players often struggle with the single most widely used intelligence test, then excel. It's called the SAT.) Here's one last fact: there have been several studies that indicate the Wonderlic may be useless, or worse.
One, in 2005, found zero correlation between Wonderlic score and passer rating. Another did find a very specific correlation, but it's not one Wonderlic proponents would like to advertise.
Dr. Brian Hoffman co-authored a 2009 study with Brian D. Lyons in collaboration with California State University (Fresno) and Towson University. The Lyons Study was presented at the 20th and 21st annual Meetings of the Society for Industrial and Organizational Psychology. This 43-page study of 762 NFL players over three draft classes comes to two distinct conclusions:
1) NFL performance on the football field was only found to have a statistically significant correlation with Wonderlic scores among two positions: Tight end and defensive back. Correlations were statistically negligible across all other positions. (Yes, even QB.) In other words, with the exception of TEs and DBs, a player's Wonderlic score (high or low) gave no predictable projection for their eventual productivity as an NFL player. It was worthless.

2)Tight ends and defensive backs showed a (significant) negative correlation.
A "negative correlation" means exactly what it sounds like. The study found that for tight ends and defensive backs, prospects with lower Wonderlic scores actually outperformed their counterparts with higher scores. The study's authors theorize that those positions are driven by instinct, and a tendency to overthink plays means missing a step. Alternately, the TE and DB findings could be chance outliers, and the entire concept of Wonderlic-as-predictor is horseshit.
G/O Media may get a commission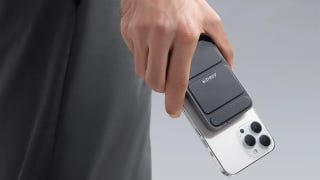 15% off
15% off Anker Top Ten Products
Take charge
Treat yourself to a portable power bank, a magnetic wireless battery for iPhones, or even a solar generator. There is a reason these are in the top ten. For instance, the Anker 747 Power Bank is a 4-in-1 charger utilizing USB-A and USB-C to be capable of charging up to four devices at once. Great to take with you when traveling and in need of keeping your phone, laptop, and even Nintendo Switch powered on.
The study has its failings. Critics say it cannot be properly peer-reviewed because the data—the actual Wonderlic scores—is not publicly available, instead gathered from the hundreds of scores that have been reported in the media. Mike Callans, VP of research and development at Wonderlic, Inc, dismisses the findings. "There are no studies to disprove it," he says, "because the data you need to disprove it is not available." Or to prove it, we will add. The scores will never become available, except to NFL teams who presumably have done their homework on any correlation between Wonderlic and performance. If they have, none of them have ever shown an inclination to heavily weight their draft board by it.
"You have to watch out for the smart ones," Giants GM Jerry Reese said in 2007. "If things aren't going well, they have other careers to fall back on. The ones who are good at football and only football, they'll do whatever it takes to stay in the league."
We're told 40-yard-dash times. Photos of shirtless and out-of-shape athletes at the combine proliferate. It's fair to argue that these should be public, as they have a real impact on the perception of the player's draftability and future performance. But don't treat the Wonderlic like it's some secret alchemy, because the special treatment gives it a mystique it probably doesn't deserve. Either make all scores public, opening the entire testing concept to scrutiny and scientific review, or do away with it altogether. Start bringing in phrenologists. For all we know (and for all Wonderlic Inc. will let us know), that would be just as predictive.