Beer is one of the oldest hallmarks of civilization; parts of the 'Code of Hammurabi' regulated the production of beer, and the Sumerian pantheon featured Ninkasi, a goddess dedicated to that golden beverage. The world's oldest continuing food-production regulation is the Reinheitsgebot, promulgated in 1516 by William IV, Duke of Bavaria, which originally commanded that beer could only be brewed from water, hops and barley-malt.
Whether in celebration or in commiseration, wherever people gather, their thirst is slaked by beer.
This summer, the world will be captivated by 32 teams (from Algeria to Uruguay) competing for the most coveted trophy in sports: the World Cup. In bars, living rooms, and patios, people will urge their teams to victory with a crisp, ice cold beer; from Seattle to Moscow, and even in Tehran, people will hoist their glasses and quench their thirst.
This is your guide to the beers of the World Cup. Why settle for Budweiser or Heineken when you can discover what each country will use to toast their team's success?
Group A
Brazil: Bodebrown/Stone Cacau IPA (Cervejaria Bodebrown) | An India Pale Ale, this beer is noted for having a light body, making it perfect for hot summer days. Other options: Wäls Petroleum (stout), Baden Baden Red Ale Especial, Eisenbahn Vigorosa, Skol
G/O Media may get a commission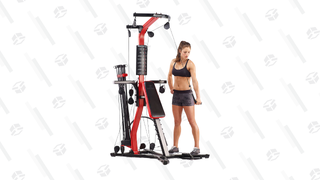 31% Off
Bowflex PR3000 Home Gym
Mexico: Cucapá Chupacabras Pale Ale (Cervecería Cucapá) | An American Pale Ale, this is a clear, amber beer with a medium body and a decent balance between the citrus hops flavors & bready malt flavors. Other options: Calavera Mexican Imperial Stout, Minerva Imperial Tequila Ale, Cosaco Roja
Croatia: Velebitsko (Pivovara Ličanka) | Velebitsko is a standard premium lager. It has a sweet-ish, malty aroma with some strong hints of honey, which can definitely be tasted. Might be a bit sweet for some. Other options: San Servolo Tamno Pivo (Schwarzbier), San Servolo Svijetlo Pivo (Czech pilsner), Pivnica Medvedgrad Agram Stout, Tomislav
Cameroon: Beaufort (Les Brasseries des Cameroun) | Beaufort is probably the best of a mixed roster of beers. It's a fairly standard pale lager, with a smooth body, and a light, clean taste. Other options: 33 Export, Satzenbrau, Kadji Beer Blonde
Group Winner: Brazil's Bodebrown/Stone Cacau IPA. Runner-up: Mexico's Cucapá Chupacabras Pale Ale.
Group B
Spain: Nómada Garrapiñale (Nómada Brewing) | This is a solid, solid IPA with a notable tropical fruit flavor, and an after-taste that lasts for a while. Other options: La Pirata Black Bock, Laugar Hop Shock, San Miguel
Netherlands: La Trappe Blond (De Koningshoeven) | You could go with a Heineken or Amstel, but why do that if you can get your hands on La Trappe Blond? This Belgian-style ale is crisp, yet has a full body and sweet taste without being overpowering. Other options: La Trappe Tripel, De Molen Hel & Verdoemenis, Amstel Lager.
Chile: Kross 5 (Kross Microbrew Beers) | This is probably the best beer from Kross. It's a Belgian strong ale, matured in oak barrels. Kross 5 has a rich taste, with a strong palate, starting off sweet and finishing with a chocolate and coffee aftertaste. Other options: Siraku Amber Ale, Szot Pilsner, Quimera Amber Ale.
Australia: Feral Hop Hog IPA (Feral Brewing Company) | Skip the Foster's and seek out Feral's Hop Hog IPA. This is an excellent IPA, with a big, strong body accompanied by great citrus flavors. Other options: Temple Midnight IPA, La Sirène Saison, Little Creatures Pale Ale.
Group Winner: Chile's Kross 5. Runner-up: Netherlands' La Trappe Blond.
Group C
Colombia: Colon Roja (Cervecería Colon) | Colon Roja is a light amber ale with a corresponding body. It tends to have a floral bouquet, accompanied by a pale, malt-ish flavor. Other options: 3 Cordilleras Mulata, Bavaria, BBC Premium Lager.
Greece: Santorini Crazy Donkey IPA (Donkey Santorini Brewing Company) | If you're thinking of Hellenic beers, what comes to mind is Mythos. Mythos Red (an amber lager) is what you should get. Even better, though: the Santorini Crazy Donkey IPA. This IPA has a fruity aroma with a slightly dry aftertaste. It's a beer Greeks can justly be proud of. Other options: Mythos Red, Delphi Pilsner, Corfu Real Ale Special
Cote d'Ivoire: Mamba (Solibra) | At one time, Mamba was a novelty beer. This premium lager tends to taste a lot like American malt liquors—fruity, with a smooth palate and taste. Other options: Beaufort, Solibra Bock, Flag Spéciale.
Japan: Hitachino Nest XH (Kiuchi Brewery) | Take a pass on the Kirin Ichiban and try the Hitachino Nest XH. This Belgian strong ale is a massively complex beer, with a ton of flavors on the palate and is aged in sake barrels, which contributes to its complexity. Other options: Hitachino Nest Japanese Classic Ale, Minoh Imperial Stout, Kirin Ichiban.
Group Winner: Japan's Hitachino Nest XH. Runner-up: Greece's Santorini Crazy Donkey IPA.
Group D
Uruguay: Patricia (FNC S.A./InBev) | Uruguay isn't a country known for its brewing tradition. That said, if you can get your hands on a Patricia, it's a decent beer. A dunkel-style beer, Patricia has a brownish color with a tangy taste to it. A better choice—if you can find it, that is—is Zillertau, which is a Dortmunder-style brew with a light, crisp taste. Other options: Zillertau, Pilsen.
Costa Rica: Costa Rica's Libertas Tropical Golden Ale (Costa Rica's Craft Brewing Company) | Costa Rica's best-known brew is Cerveza Imperial. It's a solid pale lager with a light body, and the one you're most likely to find. An even better choice, though, is the Libertas Tropical Golden Ale. This golden ale is a little on the bitter side, with a dry finish. On a hot day watching Los Ticos, it's very refreshing. Other options: Bavaria Gold, Bohemia, Imperial.
England: Samuel Smith's Nut Brown Ale (Samuel Smith's) | If you're singing along to 'Three Lions', do it right by drinking Samuel Smith's Nut Brown Ale. This gorgeously copper-colored brown ale smells like caramel, and is smooth and creamy with a dry aftertaste that hints of nuts. No Samuel Smith's? Try Fuller's ESB or 1845. Other options: Fuller's 1845, Fuller's ESB, Samuel Smith's Organic Lager…the list goes on. And on. And on.
Italy: Birrificio Italiano Tipopils (Birrificio Italiano) | Skip the standard Peroni, and honor the Azzurri's quest for a fifth World Cup by toasting their success with the Tipopils by Birrificio Italiano. This is an excellent pilsner, with a honeyed aroma and a medium body. Also recommended: the Extraomnes Zest, a Belgian-style ale with an strong herbal aroma and a clean, crisp taste. Other options: Extraomnes Zest, Peroni Gran Riserva Rossa.
Group Winner: England's Samuel Smith's Nut Brown Ale. Runner-up: Italy's Birrificio Italiano Tipopils.
Group E
Switzerland: BFM XIV (La Quatorze) | Swiss beer, like the Schweizer Nati, tends to be under-rated. An excellent example is the BFM XIV, which is an excellent weizen bock that has a strong coffee bouquet, with a subtle sweetness and dry finish. Also noteworthy: either of the Trois Dames IPA or Ale. Other options: Trois Dames IPA, Trois Dames Ale, BFM Procrastinator Eisbock.
Ecuador: Andes Red Ale (Andes Brewing Company) | The most common Ecuadorian beer you'll come across is Pilsener. It's okay, but if you come across Andes Red Ale, pick that instead. This amber ale is pleasant on the palate, with hints of caramel. Also good: Dorada, which is a pale lager with notes of honey. Other options: Dorada, Pilsner.
France: Gavroche (St. Sylvestre) | Gavroche is a great example of the French 'Bière de Garde' (lit. 'beer for keeping'). These are French farmhouse ales that have a medium body, with some hints of caramel or toffees in their bouquet. Gavroche tends to have more of a stronger body, with a little more bitterness at the end. Kronenbourg is okay, if you're looking for your standard pale lager. Other options: La Bavaisienne Ambrée, St. Sylvestre Bière Nouvelle / Grande Réserve, Kronenbourg.
Honduras: Port Royal Export (Cervecería Hondureña) | Your best bet for a Honduran beer is likely going to be Port Royal Export. Like many pale lagers, this is a golden, light-bodied lager; this one has hints of corn and honey. Other options: Salva Vida, Imperial, Barena.
Group Winner: Switzerland's BFM XIV. Runner-up: France's Gavroche.
Group F
Argentina: Araucana Negra Bock (Araucana Cerveza Artesanal) | At one time, I swore by Quilmes Cristal. That's still a decent choice, and it's the Argentine beer you're most likely to come across. That said, a better choice is Araucana Negra Bock. This dunkler bock has an intense flavor, with a sweet aftertaste. Other options: Cardos Lager Pilsner, Quilmes Cristal.
Bosnia and Herzegovina: Oldbridž Pale Ale (Pivara Oldbridž) | The Oldbridž Pale Ale is probably your best bet for a Bosnian beer. This American-style pale ale has a clear, golden color and light body, with hints of grapefruit. Skip the Kastel; it's nothing special. Other options: Prima Božićno, Kastel, Aro Pivo.
Iran: Black Delster (Iran Behnoush Company) | Let's be very clear: these are non-alcoholic beers we're talking about here, because alcohol consumption is forbidden in Iran. With that in mind: Black Delster is OK. It tastes more like a malt beverage than an actual beer. The odds that you'll come across this? Very, very low. If you want to toast Team Melli with a low alcohol beer, I recommend the Paulaner Original Münchner Hell Alkoholfrei. Other options: Delster Classic, Hoffenbrau, Iran Bartar Castle Brau.
Nigeria: Trophy Black Lager (International Breweries PLC) | Trophy Black Lager is the recommendation here. This dunkel-style beer has a medium body with hints of fruits and coffee, and a touch of bitterness at the end. Other options: Star Lager, Hero Premium Lager.
Group Winner: Bosnia's Oldbridž Pale Ale. Runner-up: Argentina's Araucana Negra Bock.
Group G
Germany: Weihenstephaner Hefe Weissbier (Bayerische Staatsbrauerei Weihenstephan) | In many ways, beer is synonymous with Germany. My personal choice is the Weihenstephaner Hefe Weissbier. This hefeweizen has what you want: a bright, yellow color, with a medium body and a fairly complex range of flavors on the palate—from vanilla to lemon to honey and maybe even banana. When people think of wheat beers, this is what they think of. Best of all: it's not hard to find. Other options: So many to choose from: Franziskaner Hefe-Weissbier, Ayinger Maibock, Paulaner Salvator...why would you pick something like Löwenbrau or Becks?
Portugal: Super Bock Cerveja de Autor Double Bock (Unicer Bebidas) | The Portuguese love their beer. Of the many different beers you can find there, Super Bock is probably the most widespread. In fact, it's acquired a bit of a cult status among football supporters from England. This specific beer is a doppelbock, with a bit of a sweet caramel flavor and a solid body. Other options: Sovina IPA, Praxis Dunkel, Sovina Amber.
Ghana: Club Gold Expert Lager (Accra Brewery) | Club Gold is probably the best of a selection of Ghanaian lagers. It's got a light body and lightly bitter finish, with some sweetness due to corn and fructose. Another option is Gold Arrow, but you're more likely to find Club Gold. Other options: Gold Arrow Premium Lager, Star Lager, Stone Strong Lager.
United States: Captain Hickenlooper's Flying Artillery Ale (Wynkoop Brewing Company) | Just as the U.S. roster is diverse, so is its beer scene. There are too many to choose from, so I went with the one I was drinking when Landon Donovan scored his penultimate World Cup goal to lift the U.S. into the knockout rounds of the 2010 World Cup: Captain Hickenlooper's Flying Artillery Ale. Named after the brewery owner and current Governor, this is a smooth brown ale, possessed of a malty palate with a lingering sweet finish. Do yourself a favor: wherever you are, toast our men with the local brew of your choice. Other options: Too many to count—Bear Republic Red Rocket Ale, Buckeye 76 IPA, Sierra Nevada Flipside Red IPA, Lagunitas DayTime, New Glaurus Dancing Man Wheat. Pick one of these and leave the Bud for another time. Or never.
Group Winner: Germany's Weihenstephaner Hefe Weissbier. Runner-up: the U.S.'s Captain Hickenlooper's Flying Artillery Ale.
Group H
Belgium: Chimay Blanche (Chimay) | Belgium is justly celebrated for its beers. With choices like Chimay, Westmalle, and Leffe, it's difficult to choose. Chimay Blanche is a wonderful Abbey tripel with a complex bouquet hinting at green grapes, raisins, citrus, and even some coffee notes. It's equally strong in flavor, with notes of grape, dough, and a noted honey/caramel malt flavor that finishes dryly with a fairly bitter aftertaste. Of all the Chimay beers, this is the most well-balanced. Other options: Belgium is deservedly notable for its Trappist monks, who brew a variety of beers: Chimay, Westmalle, Westvleteren, Achel; Affligem, Leffe, St. Feuillien. I could go on, but you get the visual. And don't forget about Delirium Tremens.
Algeria: Tango Gold (S.A.R.L. Tango/Heineken) | Algerian beers can be hard to find; Tango Gold is probably your best bet for a beer to represent the Desert Foxes. This pale lager has a medium body, with a bit of saltiness and a sweet aftertaste. If you can find it, Schems Bavaroise is a good choice as well: dry, light-bodied, with a bitter finish. Other options: Beaufort, Schems Bavaroise, Tango Samba.
Russia: Baltika 8 Pshenichnoe (Baltika Brewery) | Russians drink a lot of beer; in fact, it's the most popular alcoholic beverage after vodka. Until three years ago, beer wasn't regulated at all; anything with less than 10% ABV was considered a foodstuff, so beer was sold at all hours and consumed in public. That has since changed. Baltika is Russia's largest brewery, and the 8 Pshenichnoe, a hefeweizen, is one of their better offerings. It has a smooth body, and has a distinctive taste of bananas, bread and cloves; one friend described it as a "banana nut bread" beer. Other options: Metropole Chatain, Stolichnoe Black, Vasileostrovskoye First IPA.
South Korea: OB Golden Lager (Oriental Brewery/InBev) |If you're looking for a Korean beer, it's most likely going to be brewed by either Hite or OB, the two largest brewers. Of the two, OB Golden Lager is the one you should choose. A crisp pale lager, this beer has a bit of a sweet taste, and something of a lightly bitter finish. Other options: Hite Exfeel S, Magpie Pale Ale.
Group Winner: Belgium's Chimay Blanche. Runner-up: Russia's Baltika 8 Pshenichnoe.
And there you have it—a beer (or more) for every country in the World Cup. Buy them to toast along with the winners, predict scores by pitting them head-to-head, or try them all. (Just not all at once.)
---
Screamer is Deadspin's soccer site. We're @ScreamerDS on Twitter. We'll be partnering with our friends at Howler Magazine throughout the World Cup. Follow them on Twitter,@whatahowler.
Image by Sam Woolley, background via Shutterstock