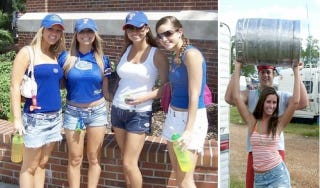 College football trundles on, and so do we. Chat about it below.
Bread basket: Boston College and Maryland are on ESPN3 beginning at 3pm.
Appetizer sampler: There are some decent choices at 3:30. ABC will be showing one of three games. Parts of the country will get either Baylor at Oklahoma St., Illinois at Penn St. or West Virginia at Rutgers. Oklahoma at Kansas St. will be on ESPN and Wake Forest at North Carolina is on ESPNU.
NBC also chimes in at 3:30, with their weekly Catholic School vs. Service Academy matchup. Speaking of the Service academies, Fordham travels up to West Point to take on the Army Black Knights. It will not be televised.
Main course: Got to eat well to sop up all that booze, right? Georgia and Florida are the main event here, also at 3:30, and CBS has got you covered. My goodness!
Enjoy the games and chat down below.