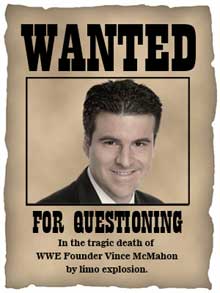 We didn't grow up watching much professional wrestling, so we don't have the solid foundation in its history as some of you might ... but we'll confess, for a writer/reporter, being brought into an ongoing WWE "feud" without your knowledge has to be quite the career highlight.
Darren Rovell, formerly of ESPN and now at CNBC, wrote a story last week questioning whether WWE shareholders could have an action against the company now that it is pretending that owner Vince McMahon was "killed" in a car bomb last week. (Apparently, there's some sort of storyline involving McMahon and a blown up limo and ... jeez, we get tired just typing this.) When he emailed the company for comment, they accused Rovell of being a suspect.
As far as speculation as to who may have committed this heinous act against "Mr. McMahon," the WWE has not ruled out any suspects, including CNBC sports business reporter Darren Rovell. The WWE would like to thank CNBC for its concern over the "Mr. McMahon" mystery and we would like to remind your viewers to continue to tune into WWE's Monday Night RAW, cable's top rated program on USA Network (a division of NBCU), to keep abreast of the latest developments in this ongoing situation.
We are so tired of sports business reporters assassinating fictional owners of fictional sports leagues. Goddamned liberal media.