Originally published in Bloomberg View
Yankees General Manager Brian Cashman and third baseman Alex Rodriguez have apparently put their whole "shut the fuck up" episode behind them. The Yankees and A-Rod, we're told, are now back "on the same page."
The best sports movies according to Toheeb Jimoh
Except, of course, they're not.
A-Rod wants to make sure he gets every penny he's owed—a total of $114 million—before his contract expires in 2017. The Yankees want to avoid paying him, either by slowing his return from a hip injury this season, so that an insurance company will be forced to pick up the bulk of his contract, or by finding a way to void his contract if he's suspended for using performance-enhancing drugs in the Biogenesis scandal. (In other news, the Yankees have just drawn up a new contract for minor-league outfielder Fernando Martinez, whose name can be found on the same list of ballplayers who allegedly bought banned substances from the anti-aging clinic in South Florida.)
G/O Media may get a commission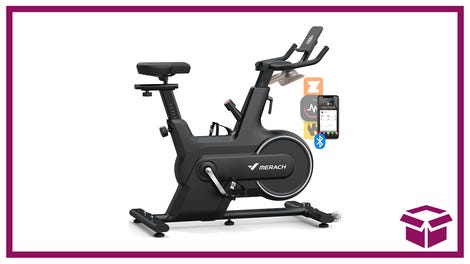 14% off + Coupon
Merach Indoor Cycling Bike
The Yankees seem to have forgotten that they agreed to re-sign a then-32-year-old Rodriguez to a 10-year, $275-million deal after the 2007 season. They're acting instead like the unfortunate victims of some unforeseen catastrophe, wondering out loud what A-Rod could possibly do to earn his huge salary. "It's a big contract," said Hal Steinbrenner, who helped negotiate it. "We all hope he's going to act like a Yankee and do the best to live up to it."
But it's the Yankees, Hal, who aren't acting like Yankees. This has made for quite an unseemly spectacle: the mighty Yankee Empire reduced to two-bit scheming to work the edges of a contract and recover money via what looks an awful lot like an insurance scam.
The A-Rod deal wasn't some sort of crazy experiment gone bad. It was the Yankees' economic model in its purest form: secure the best talent today by wildly overpaying for their services tomorrow. This is what the Yankees have been doing pretty much since the birth of free agency, when they began signing superstars like Catfish Hunter, Reggie Jackson and Dave Winfield to long-term deals.
Mark Teixeira, Derek Jeter, C.C. Sabathia—all are either making more money than they're worth or soon will be. Teixeira has been in gradual decline since signing his eight-year, $180-million deal in 2008, and won't play another game in 2013. Sabathia started showing signs of age last year; he is signed through 2017, when he'll be 35. Jeter, who just turned 39—happy birthday, Jeet!—is making $17 million this season. He is said to be pleased with the pace of his recovery from a broken ankle that has sidelined him since spring training. But he still can't run the bases.
How is A-Rod any different? Aside from the size of his contract—which the Yankees willingly entered into—he's just another aging pinstriped superstar on the unproductive back end of his career in the Bronx. The Yankees know how the megadeal works; they practically invented it. But after having eagerly dropped a match on a big pile of money, as is their custom, they're now running around pitifully trying to blow out the fire. Stop embarrassing yourselves, Yankees. You bought A-Rod. Broken or not, he's yours.
Jonathan Mahler is a Bloomberg View columnist. Follow him on Twitter.
More stories from Bloomberg View: