There's something about the game of soccer that turns (presumably) otherwise mild-mannered, law-abiding citizens into raving madmen. Players, fans, refs, even club officials often lose their minds when anywhere near a stadium. Here are our posts from 2015 documenting this curious sociological phenomenon.
---
Non-stop action from kickoff, an opening-minute goal from the all-of-the-sudden rejuvenated Fernando Torres, a dubious penalty call, two more incidents that could've easily led to pens, and five total goals made for a bonkers first half in today's Atlético Madrid-Barcelona Copa del Rey match. Then Gabi got himself red carded during halftime and Arda Turan came out chucking his shoe at the sideline judge, and things went full-blown insane.
G/O Media may get a commission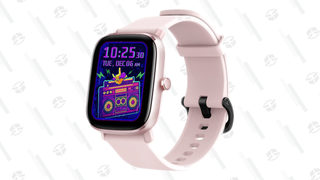 20% Off
Amazfit GTS 2 Mini Smart Watch
Get fit
Has built-in Alexa so you can ask questions and carry your smart assistant around with you; it has a battery that can last up to 14 days, has over 70 different sport modes, is 5ATM waterproof, and tracks stats like your heart rate, calories burned, sleep, and more.
---
Way down in the bowels of England's soccer pyramid lies the Isthmian League and teams like Kingstonian and Bognor Regis. This is the realm where players play for the love of the game, and fans attend for the love of the drink. Occasionally, the two sides collide.
---
A yellow? You're going to try to embed your cleats into this unsuspecting referee's vertebrae for a measly yellow card? The world's a cold, cold place.
---
Supporters of the Black Stars of Ghana fled the stands and sought refuge on the pitch as fans of the host Equatorial Guinea side reportedly attacked them leading to a suspension of the Africa Cup of Nations semi-final today in Malabo.

---
Holy shit! Just...holy shit!
---
Surprised this happened in Argentina? No? Me neither.
---
"OY, AN' WOT 'ID I 'EAR YOU SAY ABOUT ME MUM?!" one West Ham fan presumably asked the Sunderland fan across from him. Squaring up, the Sunderland hooligan probably said, "YOU 'EARD ME, MATE. ME AN' ME LADS GAVE OL' MUMSIE A GOOD BOFFIN', BUT YOU'RE GONNA LOOK EVEN WORSE THAN THAT OL' HAG WHEN WE'AH DONE WIF YOU!"
---
This is what happens when you concede your fifth goal of the game and still have about 10 minutes left to play deep in Brazil's soccer pyramid. You not only point fingers at your teammates; you ball those digits up and throw them at their faces.
---
Mexican national team coach Miguel Herrera is a crazy person in good times and in bad. You'd think that good times would bring out good-crazy, and that Mexico's referee-delivered Gold Cup win would elicit those happy emotions. But according to Mexican journalist Christian Martinoli, Herrera was not feeling too friendly after his team's victory.
---
What part of "you can't use your hands" don't you get, Gonzalo Jara? AndCavani was the one who got sent off? There's no justice in this world.
---
The third New York Derby takes place this evening, and it got wild in New Jersey beforehand. The AP's Rob Harris was there as a brawl popped off out front of Bello's Bar & Grill, right across the Passaic River from Red Bull Arena. One dude even started swinging with a sandwich board:
---
Soccer itself—and lower leagues especially—is prone to a kind of reckless, senseless violence not typically found in American sports. Toss in a heavy dose of Russians to the mix, and what is already often a caustic concoction turns downright toxic.
---
Look, if lower league refs keep getting punched and kicked and knocked out by irate players, this will be the natural end point of these things. Gabriel Murta's response to being punched and kicked by a player in an amateur match in Brazil was just ahead of the curve.
---
Normally, stadium fight videos involve long scenes of exposition and short, not very satisfying bursts of action. This, however, is like a Tati movie (only it's actually entertaining): hardly any dialogue and so many concurrent battles that you hardly know where to look.
---
This has just about everything you get from horrible soccer fandom: A bunch of idiots on the field, indiscriminate wielding of metal poles, flares, chairs being used as weapons, riot police, and a match ruined because the guys in the stadium would rather demonstrate their superiority mano a mano rather than sublimating it through the teams on the pitch.
---
Well, this is certainly one way to mark the culmination of the Bolivian league season. Not the best way, mind you, but one way.
---
Ahead of today's Manchester City-Sevilla Champions League match, a bunch of fans met in the streets of Manchester and partook in a huge fight, chucking an insane number of chairs and tables at each other, proving yet again that soccer fans are the worst.
---
So one Al-Jahra player shamelessly kicks an opponent, gets sent off, another Al-Jahra player shamelessly kicks that ref in response, also gets sent off, a goddamn Al-Jahra club director hops onto the pitch and berates the refs before smacking one, and by the end the match had to be canceled after practically the whole team lost their minds and starting beating down on the refs.
---
This disgusting act of wanton violence is brought to you by Mehmet Değirmenci, a Turkish amateur soccer player. As you can see in the video below, moments before Değirmenci so cruelly smashed this poor guy's head like a teed-up football, he became upset when the ref showed him a red card for the reckless tackle that landed his opponent on the ground in the first place. His response was what you see above:
---
It's official: CSKA Sofia fans are the realest.
---
Leyton Orient got themselves a big win yesterday over Portsmouth down in League Two, the fourth-division of English soccer. After the 3-2 win, Orient owner Francesco Bechetti ran onto the field and delivered a kick to assistant manager Andy Hessenthaler.
---