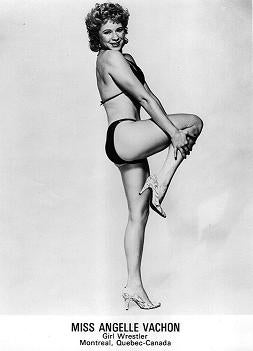 The Cauliflower Alley Club pays touching tribute to the wrestlers — Neil Carr, Donn Lewin, Paul Morton, Hans Mortier, King Curtis Iaukea, Skip Young, Jack Laskin, El Hijo del Cien Caras, Kantaro Hoshino, Chris Long, Joe Higuchi, Taro Myaki, Mike Masarky ...
... Edouard "Flying Frenchman" Carpentier, Gran Naniwa, Mike Porter, Jorge Gonzalez, Mike Shaw, La Fiera, Randy Morse, Jose Nieves, Herb Larson, Mickey Garagiola, Beverly Lehmer, J.C. Bailey, Kotetsu Yamamoto, Luna Vachon, El Espanto II, Anton Geesink, "Tough" Tony Borne, Skandor Akbar, "Nightmare" Ted Allen, Jeremy Wood, Lance Cade, Arpad Weber, Steve Stanlee, El Scorpio, Toni Adams, Cowboy Bob Bradley, Big Mikey, J.J. Jenkins, Chuck Etchels, Trent Acid, Grizzly Smith, Rocket Monroe, Rusher Kimura, Jet Monroe, El Supremo, Kinji Shibuya, Screamer, Peggy Ann Kawa-Baker, Gorgeous George Grant, Mr. Hito, Steve Stack, Gene Kiniski, Chris Kanyon, Tiny Tim/Little Brutus, Tom "The Butcher" Burton, Kenneth Laymon, Mikel Scicluna, Corsica Joe, Jerry Valiant, Sandy Scott, Angelo Poffo, Moose Mahoney, George "Red" Eakin, Ron Martinez, Gilbert Guerrero, Charles Baillargeon, Bryan Hart, Jack Brisco, Blackjack Hedden, Georgiann Makropoulos, Nick Pacchiano, Ida Mae Martinez, Katsuhisa Shibata, Ed Chuman, Ludvig Borga, Jim White — who died in 2010. RIP.
Relatedly: Our Dead Wrestler of the Week feature will return next week. Read the old columns again as if for the very first time.
2010 Finishes [Cauliflower Alley Club]