We're sure there are people out there other than Joe Theismann and Washington Post columnist Leonard Shapiro who will miss Theismann on "Monday Night Football" broadcasts next year. We just can't find any of them.
Theismann, in an interview with Shapiro, says he still doesn't understand why he was taken off the show and replaced by Ron Jaworski.
"It was a total and complete shock to me that they were going to make a change. They told me they wanted to make the show more issue-oriented, I asked them 'was it the quality of my work?' They said no. They said they noticed that when they studied the tape, when it came back to me, I talked about football. I guess that was the problem, but you'll have to ask them.

"Hey, I'm a football guy. It's what I do. To say I'm not disappointed would not be correct. I'm very disappointed. I believe that 100 percent of the audience, whether it's Sunday night or Monday, wants to be entertained and educated about football. We have enough shows on ESPN about issues all over the place. To me, when you call it Monday Night Football, the expectation of the fan is to see football, and hear about football."
We think the answer is simple, Joe. When John Skipper — a true leader! — and Norby Williamson — Norby! — told you they wanted the show to be more "issue-oriented," what they really meant was, "Jaworski is so much freaking better than you at this. Oh, and Kornheiser can't stand you."
G/O Media may get a commission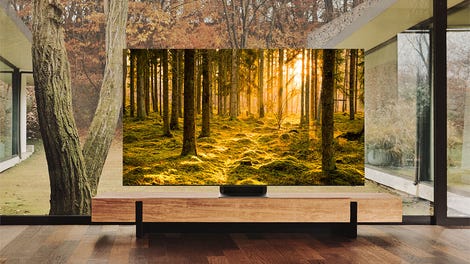 Up to 40% off
Samsung Smart TVs
Theismann says he won't be doing any on-screen NFL work for the network, though he will still be paid by the network. Poor guy.
Theismann Benched By ESPN [Washington Post]