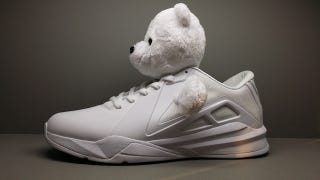 Metta World Peace is going to be playing basketball in China this year, and he's going to be calling himself The Friendly Panda, or something. Anyway, he's also going to be wearing the shoes you see above, because Metta World Peace does whatever he wants.
World Peace talked about his new shoes with Courtside Access:
Before every game, I will be wearing the white or black shoes. The top part of the shoe has a panda on it. I will be throwing it to a friend in the crowd. The person who catches it will be the Panda's Friend of the day.
Here's the thing: that's not a panda on that shoe! That's just a regular-ass bear!
Exactly.