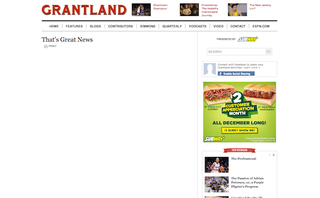 It turns out that with some spare time and trial and error, you can find some drafts (or posts marked for deletion?) on Grantland. By altering one number at a time in the seven-digit page URL—I stuck to fooling around with the last three—one can discover a bunch of headlines floating around Grantland's draft space. Call it @Grantland_ebooks. Here are some of the ones we unearthed:
"Most underrated coaches of 2012"
"Is Tom Watson key to Ryder Cup success?"