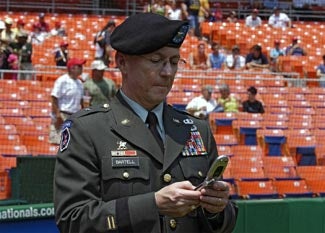 We know we should enjoy those text messages that are put on the scoreboard during baseball games these days — it's fan participation, after all — but inevitably they just seem like the screechings of teenagers, using a language we cannot understand. But we dont' take them seriously. But then again: We're not a teenager.
As the St. Louis Post-Dispatch reported yesterday, a teenager is suing the St. Louis Cardinals for putting up an inflammatory message about her. Well, someone with her initials. Kind of.
The message appeared on a scoreboard that allows fans to display custom remarks via their cell phones. According to the lawsuit, she was at a game with her high school in May 2006 when a female classmate sent the offending message.

It claimed the plaintiff "has an STD! Eww!" The girl, then 16, is identified only by her initials — A.B. The suit, filed Wednesday in St. Louis Circuit Court, claims that the "shame and humiliation" she suffered forced her to stay out of school, take her final exams in a separate office, and seek psychological counseling.
This is an awfully extreme reaction to a message that includes only initials, is flashed for about five seconds total and, you know, lacks the official endorsement of medical professionals. But then again ... A.B. has an STD! Ewwwwww! OMG!
Illinois Teen Sues The Cardinals [St. Louis Post Dispatch]
(UPDATE: Apparently they used her real name on the scoreboard, but her initials in the lawsuit. Our mistake.)