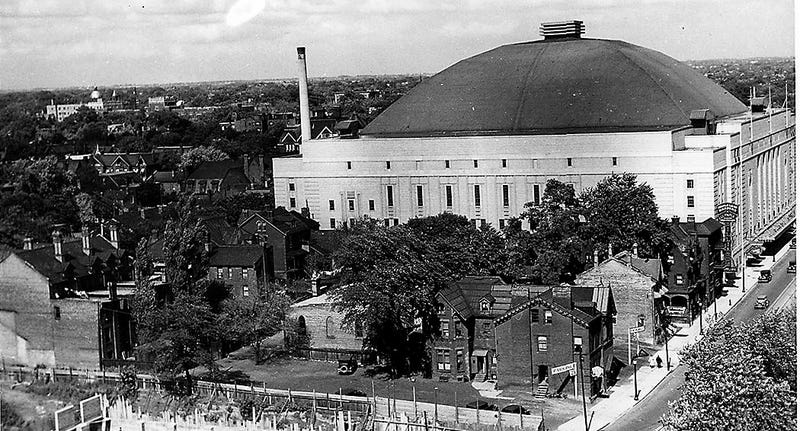 While we're on the topic of the sad fates of arenas without teams, it's worth noting that this week saw the beginning of a rebirth for the old Maple Leaf Gardens. The art deco masterpiece, which the Leafs abandoned for new downtown digs in 1999, is a National Historic Site. But lying largely dormant for a decade, the Cavern on Carlton had become an actual cavern: dark, dingy and full of C.H.U.D.s.
No more! Canadian food giant Loblaws, who purchased the property in 2004, just opened a flagship supermarket in the building. Even better, nearby Ryerson University, with partial funding from the federal government, is renovating the rink for use by the school's teams. It'll be in use by the spring, meaning hockey will return to the 80-year-old building. It's a compromise, but a welcome one considering the alternatives.
TheLeafsNation has a rundown of the fates of the Original Six Arenas, and it's not pretty. CliffsNotes version, they're now a pair of parking lots, an office complex, an armory and a mall. Although there is a fondly remembered footnote to the former site of Madison Square Garden III: until maybe 10 years ago, there was a second-run movie theater with $2 tickets. For a generation of New Yorkers, it remains the best deal we'll ever find. Hopefully Torontonians can find similar deals in the produce aisle.