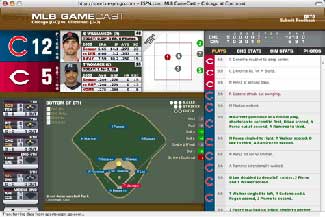 We'd like to congratulate Rob King, who was just named the new editor-in-chief of ESPN.com. If you haven't heard of King, don't worry; he's not particularly easy to find on the Internets either.
He was formerly the sports editor of The Philadelphia Inquirer — the man charged with answering the perpetual question of where, in fact, is Mamula — and has been in charge of NBA coverage for ESPN News the last couple of years. (They have people in charge of individual sport coverage on ESPN News? Really? That doesn't sound right.)
Because ESPN is clearly heading toward a blog path these days, we assume King is familiar with the medium and perhaps has even wandered around these parts. (Comment name: supermike3!) So we would like to formally invite you to use this thread as an opportunity to drop some notes in King's suggestion box. We'll start:
• Please, please make the video go away.
• Tell Scoop to stop calling; we're not hiring.
Your turn.
ESPN Names New EIC [Sports By Brooks]
(UPDATE: King was in charge of all NBA coverage, we're told, not just ESPN News'. That makes more sense.)