"We didn't really play good enough for long enough," Braden Holtby said. The Washington Capitals were very good, over a very long season, but even good teams falter when they run into better ones.
That's really all: No choke here, not even in a second-round exit for the Presidents' Trophy winners, not when the flawed NHL playoff bracketing matched up them up against the league's hottest and best team since December, which then went and stumbled into a rookie netminder who solidly outplayed the Vezina favorite at the other end. (Sometimes these things happen; to certain franchises, it seems like they happen often.)
Either because they didn't play their best hockey, or because a superior opponent prevented them from doing so, the Capitals discovered, for the second year in a row, that "good" isn't always sufficient, and playoff success is a question of degree, not of kind. One-goal games were the Caps' bread-and-butter all year long; in this series, Pittsburgh won four one-goal games, and outscored the Caps 16-15.
"We didn't own the big moments," Justin Williams said. "The margin of error is very small in this league, and they owned the big one tonight."
Holtby's quote at the top of this post was referring solely to Game 6, a wild one where the Caps dug themselves a three-goal hole, then clambered up to the lip just in time for Nick Bonino's overtime winner to kick them back into its depths for another longer-than-expected summer. He could very easily have been talking about the slog of the season, where early and sustained success can win you home-ice advantage, but it can't keep you from falling off or hitting a rough patch later on. He could have been talking about the playoffs, where inspired flashes of play mixed with tentative, defensive stretches where Washington seemed to be waiting for counterattacks that they never bothered to deploy.

Holtby was talking, specifically, about the Caps' slow start. They've made a nasty habit of it this postseason: In 12 games, they scored just five goals in the first period, and 13 in the third. Digging a hole just deep enough to bury themselves, climbing out just fast enough to be able to peer over the edge, but not surmount it. Not good enough for long enough.
G/O Media may get a commission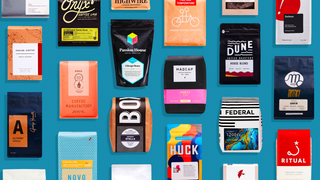 Get $25 free
Trade Coffee - National Coffee Day
Alex Ovechkin has been here for it all, eight first- or second-round exits in nine seasons now. But these are not the same talented, flawed Caps that justly earned a reputation for crumbling to inferior teams. These Caps are talented and flawed in their own way. They've graduated to maintaining their dignity while failing to get over the hump. But they still can't get over it. Dignity is no real consolation.
"I'm proud of my team, I'm proud of my teammates," Ovechkin said. "We battled through. It doesn't matter what happened, but in the end we lost in the second round, so it sucks."
Here's a thought exercise: Instead of picturing the Capitals as perennial also-rans, forever doomed to make the playoffs but to never make noise, picture them as a young, up-and-coming team, led by a couple of veterans who have been through the wars, who are only going to get better with experience. Tough to picture, isn't it? (Institutional memory is a tough thing to shake.) But it's true:
Holtby's emergence gives the Capitals a rock at the back end they haven't had before, and the offseason should be spent addressing depth concerns, especially on the blue line. But the core is locked in place, and Evgeny Kuznetsov, the team's points leader has just two full seasons under his belt, and T.J. Oshie has earned the first-line role he never quite grabbed in St. Louis, and Nicklas Backstrom remains a marvel of consistency, and Justin Williams maintains his big-game chops, and Ovechkin is still Ovechkin, with no hints yet of a decline. This is a team that is good at worst, with the potential to be great. In other words: The Capitals can get better.
GM Brian MacLellan said this was the first year of a two-year Stanley Cup window, before contracts start expiring and young stars come due for big raises. This was just not the Capitals' season, as it turned out.
"Every year, there's lots of expectations, lots of great players, but something we're missing," Ovechkin said. "This group of guys can do better and bigger than just the second round."
He's absolutely right. They can. With MacLellan and Barry Trotz, Caps fans should have faith that they will. But in sports, institutional memory possesses fans more than it does players, and Washington knows how its faith in the Caps has gone rewarded before. It just hasn't been good enough.