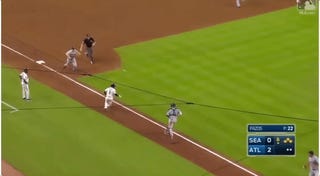 For all the focus on the length of baseball games, almost all individual baseball plays are very short. Extremely short! Under 10 seconds, and usually well under 10 seconds! This play is not extremely short. From when contact was made at the plate to when the final tag was made, the play lasted about 25 seconds, and most of them were weird.
With runners on first and second, Atlanta centerfielder Ender Inciarte hit a grounder to Seattle shortstop Jean Segura. The runner on first, Lane Adams, advanced to second; the runner on second, Ozzie Albies, made it to third and kept on going for home. This got him stuck in a rundown between third baseman Kyle Seager and catcher Mike Zunino, which he wriggled his way out of only because Seager dropped the ball in what would later be scored as an error. That gave Albies time to score—with first baseman Yonder Alonso covering home plate—but by that time, Adams had tried to advance to third, and the catcher was there to tag him out, as one does. Inning over, at last.
The old, uh, 6-5-2-E5 followed by 6-3-2. Classic.