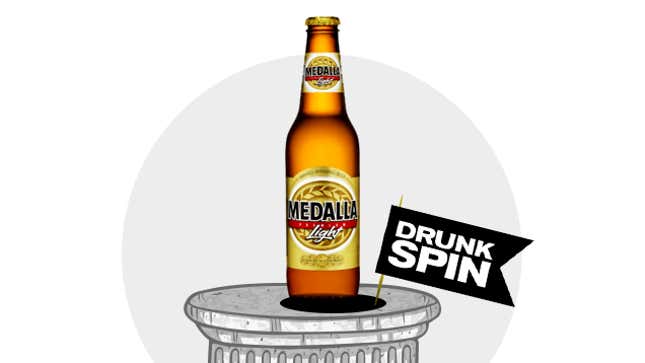 Yesterday I fucked off work around two in the afternoon, which is to say about an hour after I finally fucked back onto work for the first time since last Thursday. I'd sincerely intended to bravely struggle through a full afternoon of hiding behind my keyboard, but then I got a text from one of my favorite recently expatriated beer buddies, who was temporarily back in town with a couple hours to kill and a solid itinerary for doing so.
Is Texas or Florida State a bigger national title contender? | Agree to Disagree
We started at Cambridge Brewing Company, an objectively excellent brewpub about which I'm nevertheless conflicted. I was very excited when we moved into its neighborhood last year, but the service ranged from spotty to incompetent on our first few visits. I'm an enormous pain in the ass as concerns most human interactions, but I'm a pretty easy guy to sell a beer to, so I don't think the problem was my outrageous expectation that the bartender refill my empty glass every half-hour or so.
It was probably just bad luck—everyplace and -body has off days, and it's not impossible that I just hit the place on a few consecutive bad days for a few too many of their bodies. But I couldn't shake the suspicion that my beer-mate's gender had something to do with it. I always went with my wife, and I don't want to paint an entire genre of bar with too broad a brush, but places that specialize in geek beer have a reputation for not always acknowledging women's thirsts in timely or respectful fashions. Plus this joint's in the middle of a giant cluster of tech companies, so there's another log on that particular fire.
After the second or third time we felt blatantly ignored, I emailed the owner/head brewer, and was very impressed with his thoughtful and timely response, and I appreciated his reassurance that the situation was an anomaly that would get straightened out. He seems like a good guy, and he makes great beer. Alas, his staff still mostly just likes to dick around with their phones while my wife sits in the corner sucking on desiccated lime wedges to avoid death by dehydration. So now I only go there with men.
Now, there's a hole in my story: It's not as if my wife was going alone. She was always sitting right next to an obvious beer slob, so maybe the service was just cruddy because some places provide cruddy service; it may have had nothing (or nothing much) to do with gender. But whatever the reason, we've got it in our heads that this particular otherwise-excellent bar is just no place for my wife to get served a drink.
There are so many factors that go into enjoying a beer. It's not all just aroma and flavor and mouthfeel (just kidding, none of it is mouthfeel). It's also based on the drinker's personal circumstances and experiences at the exact moment when tongue meets suds. This is why Medalla Light is one of my five favorite beers, because it is the beer I drink on the beach in Puerto Rico.
Produced by the Compañia Cervecera de Puerto Rico, Medalla Light is, to my eye, far and away the most popular beer in San Juan. It is a typical crappy adjunct lager, available in 10-ounce cans or 12-ounce bottles for between $1 and $5 a pop, depending on how far you're willing to walk from your beach chair to procure one. I find that the price goes down about a dollar every 50 yards you get from the water. That's right: Once you hit a residential neighborhood just beyond the sound of the waves, they pay you to drink Medalla. This is why I'm moving to Puerto Rico as soon as I iron out the details on how to perform my Drunkspinning duties on an island not exactly overflowing with interesting craft beers. (Though it must be noted that I saw a lot more of the good stuff than I did the last time we went, in 2012.)
Anyway, Medalla is terrible, thin and bland and distinguishable from water only by the persistent cardboard aftertaste, and it is fantastic. And, funny thing, the guys who run the little markets along the main drag across from the beach provide a pretty woman in a bathing suit with excellent customer service.
I'm pleased to report that the couple of different beers I had at Cambridge Brewing Company yesterday tasted excellent, as a beer will do when you're on the beach or, alternatively, drinking in the middle of the day while your wife is off earning beer money. The best Cambridge beer I tried yesterday was Indiscipline, a brett-inflected, dry-hopped farmhouse ale made in collaboration with Oregon's Ninkasi Brewing. It's approximately 20 times better than Medalla Light; I enjoy them roughly the same.
---
This is Drunkspin Daily, the Concourse's adequate source for booze news, reviews, and bullshit. We'll be highlighting a beer a day in this space; please leave suggestions below.
Will Gordon loves life and tolerates dissent. He lives in Cambridge, Mass., and some of his closest friends have met Certified Cicerones. Find him on Twitter @WillGordonAgain. Image by Jim Cooke.
The Concourse is Deadspin's home for culture/food/whatever coverage. Follow us on Twitter.