Welcome back to Drunkspin's Sub-Five Friday, wherein we endeavor to ease you into the weekend armed with a recommendation for a lower-alcohol beer that will help you keep up with your day-drinking responsibilities without making a battered and bruised fool out of yourself. We'll stop running this stupid intro the first time we remember to keep it under five-percent ABV on three consecutive Fridays. Don't hold your breath—that hole's where the beer goes!
Anderson Valley Brewing Company has absolutely no respect for the needs of the beer-headline writer, which is why they named the newest entry in their Highway 128 Session Series "Kimmie, the Yink, and the Holy Gose." That kind of blatant antagonism of hard-working journalists should earn them a lifetime ban from Drunkspin, but they luck out because I wanted to write about a gose, and they happen to make the best readily available, widely distributed version I've found.
This seems to be the year when even the mildly adventurous drinker has begun to dip his or her tongue into the sour-beer pool; sours are now popular enough for Thrillist to lampoon them and for the culture section of a sports site to review a pair of them in the same week.
Two of the less intimidating, more manageable entry-level sour styles are Berliner Weisse and gose. One beer-world friend has gone as far as to predict that Berliners will be next summer's replacement for this year's shandy overload, with every brewer trying his or her shaky hand at the trendy style. This could get ugly, as producing a sour wheat beer with lactobacillus is a smidge more complicated than cutting a pale lager with grapefruit juice, but we'll burn that bridge when we come to it. Today, we're on the gose.
The German Beer Institute offers a pretty good definition of gose; since I have too much integrity to just repeat it and I don't get paid by the word, I'll let them explain it to anyone who wants to stay after class. As a general overview, we just need to know that gose is a several-centuries-old German style that typically uses a grain bill split relatively evenly between malted wheat and malted barley, lactic bacteria, coriander, and motherfucking salt. Yup, this week's Sub-Five Friday selection is intentionally soured by bacteria, spiked with coriander, and then salted for good measure. This sounds bad. This is good.
G/O Media may get a commission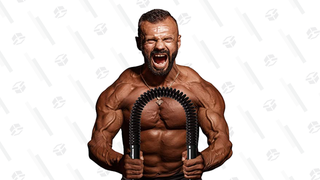 10% off
Zenooze Boa Power Twister
Kimmie, the Yink, and the Holy Gose comes in a can, but when poured into a glass it looks like a regular yellow fizzy beer (though with a more substantial head, due to wheat having a higher protein content than barley), with none of the haze often associated with wheated beers. The nose shows basic wheat with sharp lemon, and maybe a touch of green apple and tropical fruit, with the flavor following suit but for the addition of a salty sensation.
This is nice, tart beer that will appeal to drinkers of high-end off-dry hard cider. You don't taste the salt so much as you feel it drying out your mouth and tamping down any sweetness that might sneak out from the wheat. The salt plays an almost hoplike role on the dry finish, which helps since there is almost no actual hop presence.
This is a seriously good 4.2-percent-ABV beer that is plenty interesting yet less funky than it sounds. It was made to be sucked down in large gulps interspersed with dark pretzels.
---
This is Drunkspin Daily, the Concourse's adequate source for booze news, reviews, and bullshit. We'll be highlighting a beer a day in this space; please leave suggestions below.
Will Gordon loves life and tolerates dissent. He lives in Cambridge, Mass., and has visited all of the other New England states, including, come to think of it, Vermont. Find him on Twitter@WillGordonAgain. Image by Jim Cooke.
The Concourse is Deadspin's home for culture/food/whatever coverage. Follow us on Twitter.