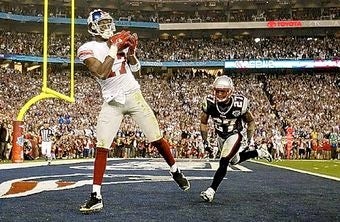 We've just received some unsettling news about Plaxico Burress. Not only does he tip poorly and is a danger to himself and others, but he also borrows things without returning them. Expensive things.
The former Giant wideout is being sued in Lebanon County, PA, over a car lease that he allegedly did not really attempt to honor. His trial—which I can't imagine he would show up for in a million years—starts tomorrow.
Court papers say Burress leased a 2004 Chevrolet Avalanche worth more than $36,000 from a Lebanon County car dealer in exchange for promises to appear at publicity events. But the civil complaint filed by car dealer Frederick Laurenzo says Burress never returned the car and did not show up to sign autographs. Laurenzo also says the car was seized by New York City police after Burress let someone else use it.
First of all, you leased a car to an NFL player in exchange for autographs? Your whole business should be towed for that one. Second of all, an Avalanche? Really, Plaxico? Even my mom would never be caught driving a Chevy Avalanche. Of course, she doesn't usually leave the house in sweatpants either, so to each his own, I guess.
Football player Burress lands in Lebanon court [Penn Live]