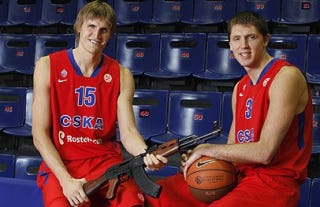 Your p.m. roundup for Oct. 6, the day some really hung squirrel ruined a bake off. Photo via That NBA Lottery Pick. Got any stories or photos for us? Tip your editors.

What we're watching (all times EDT, unless noted): Versus has an NHL season-opening doubleheader, with Flyers-Bruins at 7 and Penguins-Canucks at 10. Game 5 of the ALDS between the Tigers and Yankees is on TBS at 8. ESPNU has college football, with Western Kentucky-Middle Tennessee at 7:30. And ESPN has Cal-Oregon in a college football game at 9.
Read Me
Elizabeth Gilbert's 2000 profile of Hank Williams III: "Shelton grew up in Nashville with the dimmest sense that there was something special about his name. Knew he had a dead, famous grandfather. Saw his daddy on TV all the time, but rarely in person. Shelton himself had been completely cut off from the fortune of both Hank Williamses. The mama with the valentine-shaped face raised her son as best she could, all by herself and on a retail store clerk's salary. She was a good Christian woman who loved her boy. But here's what young Shelton loved: music. And he wasn't into that corny old-timey Nashville shit, either, but the hardest, scariest music he could find. Even when he was 4 years old, he was already whaling on his drums to Kiss albums. When he got older, the music he loved got even harder—Henry Rollins, Black Sabbath, the Sex Pistols, the Misfits. ('If Marilyn Manson was around when I was a kid,' Hank-3 says, 'I would have listened to that and my mom would've shit even more bricks.') He got kicked out of a decent private school because his grades sucked, and once he hit the public-school system, he just quit on the whole education thing and started hanging out with the really bad kids. Grew his hair down to his ass but shaved his head on the sides. Got tattoos he liked to think his mama didn't know about. Joined up with some local punk bands with names like Bedwetter, Buzkill, Rift. His mama sent him to Christian camps, where they tried to exorcise the Devil from him. They tried to scared [sic] him by telling him how listening to this satanic music would doom his soul to burn in hell for eternity. Shelton believed every last word of it, but that only made him more attracted to the angry music because he wanted to be scared." [GQ]
This Date In Deadspin History
Oct. 6, 2006: There's Always Room For Tasing
Things You Might Have Missed Today
Some quick links to a few items we posted earlier:
• Terry Francona Gave A Boston TV Station An Interview, But His T-Shirt Probably Says More Than He Did
• Caller Wants To Discuss Tigers Pitcher, Mike Francesa Hangs Up On Him Because He Doesn't Believe That Pitcher Exists
• Why Sports Don't Need Concussions To Destroy Players' Brains
• "You Cheated On Me," Says Angry Person Who Hacked Into Denard Robinson's Twitter Account This Morning
• Stats Show The New Kickoff Rule Kicks A Whole Lotta Ass
• Just Read The Damn Book: Welcome To The Sweetness Bash
• Brewers Girl Promises To Bring Her "Best Cleavage" Tomorrow Night
• One Armand De Brignac Nebuchadnezzar For Only $100,000! An Unscientific Analysis Of The Zac-Efron-And-Heather-Graham-Inspired Chicago Bar Bill
• The NBA Fan's Guide To Feigning Interest In Hockey During The Lockout
• The Many Faces Of Bomani Jones
Elsewhere
Tony La Russa probably doesn't expect him to be, either: "Williams also noted Ventura's familiarity with the team's minor league system. Ventura, 44, has never managed and only rejoined the Sox's front office last June as a special assistant to Buddy Bell, the team's director of player development. 'Robin was brought in back in June to enhance our minor league system,' Williams said. 'I would have preferred to allow him more time in that role. But this came up and I thought Robin was the guy.' As to Ventura's lack of experience, Williams said, 'I don't expect him to be Tony La Russa right off the bat.'" [Chicago Tribune]
The ca$e against Tim Tebow: "Why is Kyle Orton the starting quarterback for the Broncos? Why is Tim Tebow on the bench? Follow the money. The Broncos are paying Orton nearly $9 million this season; they have no interest in shelling out that kind of cash for someone who sits on the bench. That's starter-type money. Furthermore, Denver would have to pay Tebow significantly more than the $1,618,750 base salary he is guaranteed for the 2011 season if they put him on the field. That's right; the second-year signal caller has incentives in his contract that kick in if he reaches certain playing-time thresholds." [Mile High Sports]
Your Bank Of Cyprus Commercial Interlude:

They might as well start negotiating with Andrew Luck, too: "Another loss for the winless Miami Dolphins: Quarterback Chad Henne is out for the season. Henne decided to have shoulder surgery and was placed on the injured reserve list Thursday. The Dolphins replaced him on the roster by signing veteran quarterback Sage Rosenfels, who was released Tuesday by the New York Giants after recovering from a blood disorder that sent him to the hospital in August." [Sports Illustrated]
Is that all?: "David Beckham's income from personal sponsorship deals rose 30 percent last year, signaling the enduring strength of the Los Angeles Galaxy player's brand appeal. According to figures released by Britain's Companies House, revenue for the company that handle Beckham's endorsements was $23.9 million in 2010." [Associated Press]
Merch: Managing editor Tom Scocca and contributing editor Drew Magary have both written books. You can buy Scocca's Beijing Welcomes You: Unveiling the Capital City of the Future here, and Magary's The Postmortal here. Now do it.
Send stories, photos, and anything else you might have to tips@deadspin.com.