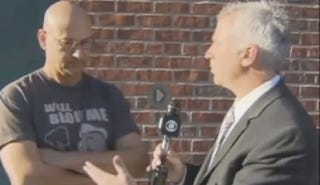 Your morning roundup for Oct. 6, the day we learned a ban on dwarf-tossing threatened our freedom. Photo via WBZ-TV; h/t to Morris. Got any stories or photos for us? Tip your editors.

What we watched: The suddenly spooked Phillies, who realize all too well that their supposed dominance is still no match for the whims of baseball. Even before the galloping squirrel of doom and Shane Victorino's centerfield spaz-fall, my uneasiness about their chances of winning this series crept in Sunday night, as the offense sputtered just in time for Cliff Lee's beach ball clinic. Yesterday's victory seemed accidental, salvaged only by Cole Hamels's coolness and a flukey match-up swat from the bat of Ben Francisco. Ben Francisco saved the day. See? Something's amiss. So last night's strikeout-throwout and double-ups at third base and Freese bombs were not surprising. All those plays were just a cruel reminder to those entitled Phillies fans who thought that 102 regular season wins and a stud farm rotation rendered the LDS a three-game warmup drill for Real October. Those fools deserve to be electrocuted. (A.J. Daulerio)
Elsewhere
NBA agents relax their efforts to be everyone's lockout scapegoat: "The seven agents who sent NBA players a 'warning letter' on Monday held a conference call Wednesday afternoon to discuss their next move in the league's lockout, according to sources with knowledge of the situation. Those agents—Arn Tellum, Bill Duffy, Dan Fegan, Jeff Schwartz, Leon Rose, Henry Thomas and Mark Bartelstein—had been strong behind-the-scenes advocates of decertification for the Players Association but, according to the source, now believe that the time to do so has passed." [ESPN]
Deron Williams's jump shot is locked out, too: "Deron Williams has not looked good. At all. There is no sugar coating it. A few games in playing for Turkish side Besiktas, the biggest name in the NBA to sign overseas has not impressed anyone. Williams led Besiktas into the EuroCup last week, which is a second tier tournament that took place in Belgium, and he had 7 points on 3 of 13 shooting with 6 turnovers. The man who should dominate at this level watched his team get eliminated fast. Days before that in D-Will's debut for Besiktas he was 3 for 15 shooting." [ProBasketballTalk]
Your Pong Interlude:

Former Buffalo Sabres star had CTE: "Rick Martin, the former N.H.L. star, had chronic traumatic encephalopathy, a neurodegenerative disease linked to repeated brain trauma, when he died last March of a heart attack at age 59. … His only known concussion occurred in a 1978 game against the Rangers during which his head hit the ice, causing immediate convulsions. Martin wore a helmet for the rest of his career." [New York Times]
Brian Lam remembers Steve Jobs: "I don't ever think I was comfortable with the idea that Jobs or anyone at Apple, like Jon Ive, was reading our work. It was scrappy, sloppy, inspired, mainstream-ish, and in general, experimental in nature. It was, frankly, embarrassing to have people who were obsessed with perfection reading something that was designed to be imperfect but alive and flowing. It was also firmly anti-establishment, like Apple used to be. But Apple was winning and was starting to become the Establishment. I knew it was only a matter of time before we collided. Getting bigger is sometimes hard, I was about to find out." [The Wire Cutter]
Wayne Rooney's father arrested: "Wayne Rooney's father is one of nine men arrested as part of an investigation into suspicious betting activity, sources said. Wayne Rooney senior, 48, was detained at his home in the West Derby area of Liverpool. Also arrested at his Glasgow home was the Motherwell midfielder Steve Jennings." [The Guardian]
Merch: Managing editor Tom Scocca and contributing editor Drew Magary have both written books. You can buy Scocca's Beijing Welcomes You: Unveiling the Capital City of the Future here, and Magary's The Postmortal here. Now do it.
Send stories, photos, and anything else you might have to tips@deadspin.com.