Your p.m. roundup for Oct. 17, the day we learned cancer was two-faced. Photo via Mocksession, though a decision on whether McNabb will start this week is coming Wednesday. Got any stories or photos for us? Tip your editors.
What we're watching (all times EDT, unless noted): ESPN2 has coverage of the Pan-Am Games beginning at 8. Your Monday Night Football game is Dolphins-Jets on ESPN. And Versus has Avalanche-Maple Leafs in an NHL game. Both start at 8:30.
Read Me
The plight of the twentysomethings: "And so we find ourselves living among the scattered ashes and spilled red wine and broken glass from a party we watched in our pajamas, peering down the stairs at the grown-ups. This is not a morning after we are prepared for, to judge by the composite sketch sociologists have drawn of us. (Generation-naming is an inexact science, but generally we're talking here about the first half of the Millennials, the terrible New Agey label we were saddled with in the eighties.) Clare has us pegged pretty well: We are self-centered and convinced of our specialness and unaccustomed to being denied. 'I am sad, jaded, disillusioned, frustrated, and worried,' said one girl I talked to who feels 'stuck' in a finance job she took as a stepping-stone to more-fulfilling work she now cannot find. Ours isn't a generation that will give you just one adjective to describe our hurt." [New York]
G/O Media may get a commission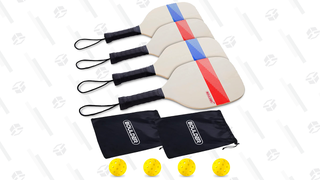 It's Pickleball
Pickleball Sets
This Date In Deadspin History
Oct. 17, 2006: Jay Mariotti Might Be Somewhat Sensitive To Criticism
Elsewhere
What the Red Sox wanted for Epstein: "The Boston Red Sox initially wanted Chicago Cubs starting pitcher Matt Garza to be included as compensation for general manager Theo Epstein, but the Cubs refused, according to major league sources." [ESPN]
It's over, but it's just beginning: "MLB vs. Frank McCourt has become the main event, and if Frank and Jamie now will become something of odd bedfellows -– pun intended -– Frank will still have plenty of legal opposition in bankruptcy court from MLB and Fox. The settlement agreement reportedly calls for Jamie to receive about $130 million to relinquish her claim to half the team. Of course, Frank apparently doesn't have $130 million. The Dodgers had to borrow $150 million from MLB to stay afloat back in August. McCourt had to borrow $30 million from Fox to make payroll in April. He had to get an advance from Fox in the winter. If the team is sold, Jamie jumps to first in the line of creditors. But this new agreement doesn't soundall that different from the one they reached back in June, which was dependent upon Selig approving the Dodgers' TV deal with Fox. Which, of course, he did not." [Los Angeles Times]
Your Mexican Restaurant Commercial Featuring A Farting Pregnant Woman Interlude:

Shawn Kemp got fat during the last lockout out of determination: "Not only did Kemp not follow his diet, he also turned down an offer for a private chef that the team wanted to hire for him because they were clearly worried he'd get fat. That is some serious dedication to sloth and gluttony, my friends." [The Basketball Jones]
Too much "Red, Red Wine": "Those immune to UB40's lightly funky waiting-room music might accuse the group of settling into an artistically bankrupt rut, but there appears to be no disagreement that UB40 is now actually bankrupt, financially speaking. A British judge declared as much after the group's record company and management firm went bust, reports NME; the courts can now seize the band's property to cover its debts for up to a year." [AV Club]
No fight, no fine: "On Detroit-SF coach incident, fortunately, there was no fighting and thus no basis for a fine..." [@gregaiello]
Merch: Managing editor Tom Scocca and contributing editor Drew Magary have both written books. You can buy Scocca's Beijing Welcomes You: Unveiling the Capital City of the Future here, and Magary's The Postmortal here. Now do it.
Send stories, photos, and anything else you might have to tips@deadspin.com.