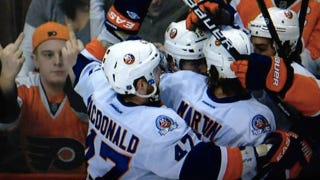 Your morning roundup for Jan. 20, the day we learned old men in Japan engage in vaginal prayer. Photo via Busted Coverage. Got any stories or photos for us? Tip your editors.

What we watched: The Miami Heat's 98-87 decimation of the Los Angeles Lakers. In a game that was never close, Mike Brown left Kobe and Pau on the floor until the final whistle; the decision was a curious one, since a Lakers loss had long been inevitable and this was the first of two road games on back-to-back nights. Brown's refusal to spare Kobe the extra wear and tear did force Erik Spoelstra to stick with a chest-congested LeBron, so there was that.

What we're watching (all times EST, unless noted): Montreal at Pittsburgh in NHL hockey at 7 (NHL Network). Michigan at Notre Dame in men's college hockey at 7:30 (NBCSN). Green Bay at Cleveland State in men's college basketball at 8 (ESPNU). Australian Open 3rd round at 9 (ESPN2). Los Angeles Lakers at Orlando Magic in NBA basketball at 8 (ESPN). Iona at Rider in men's college basketball at 10 (ESPNU). Minnesota at Los Angeles Clippers in NBA basketball at 10:30 (ESPN).
Read Me
An interview with elusive WikiLeaks founder Julian Assange: "Assange agreed to a lengthy interview at his new home, on the condition that the location be kept secret, along with the identities of the core WikiLeaks staffers who have stuck by him since he ran into trouble in Sweden. Though he continues to run the group from captivity, working on what he calls a new set of scoops concerning the private-surveillance industry, the media furor over his personal life has turned him into a pariah among many former supporters, making it difficult for WikiLeaks to raise money. He's been called a rapist, an enemy combatant, and an agent of both Mossad and the CIA. His two most prominent collaborators—The New York Times and The Guardian—have repeatedly tarred him as a sexual deviant with bad personal hygiene, while continuing to happily sell books and movie rights about his exploits. His own personality has also proved divisive: He's charming, brilliant and uncompromising, but he has inspired intense hatred among former colleagues, who portray him as a megalomaniac whose ego has undermined the cause. [...] When Assange comes into the living room and sits on the couch, a small Jack Russell terrier jumps up onto his lap and remains there for most of the next five hours. 'You use two recorders,' Assange says, looking at the digital recorders I've put down on the small coffee table. 'I usually use three.' But as soon as we start the interview, the phone rings. It's Daniel Ellsberg, the man who leaked the Pentagon Papers, who had attended the Manning trial with Assange's lawyers. Ellsberg is in a car driving back to Washington, D.C. 'I can hear you,' Assange shouts, ducking into the dining room. 'Can you hear me?' Five minutes later he returns, energized by his talk with America's most famous whistle-blower. 'Where were we?' he says. His assistant brings in two cups of coffee, and the interview begins. [Rolling Stone]
This Date In Deadspin History
Jan 20, 2009: The Buzzsaw That Is The Super Bowl
Elsewhere
Tiger Woods knows the book he hasn't read is one-sided: "Woods and Haney parted ways in May 2010 after a six-year period that saw the golfer win 31 times on the PGA Tour, including six major championships. 'I think it's unprofessional and very disappointing,' Woods told ESPN.com in a telephone interview,' especially because it's someone I worked with and trusted as a friend. 'There have been other one-sided books about me, and I think people understand that this book is about money. I'm not going to waste my time reading it.'" [ESPN]
Christian Laettner is back!: "Christian Laettner retired from the NBA following a forgettable 49 games during the 2004-05 season when he sat on the Miami Heat bench alongside such big man luminaries as Michael Doleac and Wang Zhizhi. Following a couple of failed business ventures, however, the former Duke Blue Devils star is back in basketball … as an assistant coach with the NBA Development League's Fort Wayne Mad Ants." [PBT]
Your KFC Japan Interlude:
The Jets locker room was all hunky-dory: "But predictably, Johnson came to the defense of his team and the management decisions that brought in players with questionable character in an effort to make the team's first Super Bowl appearance in over four decades. Johnson told the media on Thursday he 'didn't feel a toxicity in the locker room' and disagreed with Tomlinson's characterizations. 'A locker room is kind of like alchemy, putting it together. You have to put it together. You hope that the leaders like LaDainian take charge and squash some of these conflicts that arise. That kind of leadership you need. I know LaDainian. I know him pretty well; I know that he probably tried to do it. He's a very honorable guy, a tremendous player and a tremendous person,' Johnson said." [Shutdown Corner]
Catch 'n Cry?: "By now you've already seen it a dozen (or more, no judgment here) times: Vernon Davis' amazing game-winning touchdown catch. Now, we need your help to give it a nickname. The Chronicle Sports Desk has come up with a few options below, but if you have a better idea, please leave it in the comments. Your fellow readers can like their favorites there too. What should Vernon Davis' game-winning touchdown be nicknamed?
Vernon Post
The Post
The Throw and Catch
The Catch III
The Dagger
None of the above (leave your pick in the comments)
The Grab
The Catch IV
The Clutch
Send stories, photos, and anything else you might have to tips@deadspin.com.