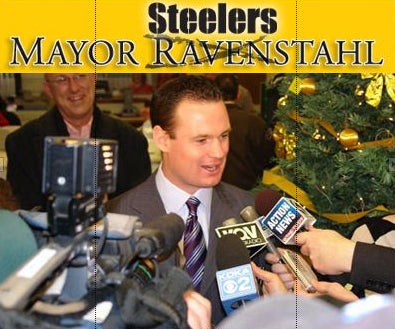 In addition to being the youngest mayor in Pittsburgh history, Luke Ravenstahl is a rabid Steelers fan. Put those two things together and you get this: A publicity stunt for the ages.
In a hastily-called press conference today, Ravenstahl announced, straight-faced, that he's changing his name to Steelerstahl. He even went down to the Allegheny County Department of Court Records to fill out the paperwork, although there's some question as to whether he completed the forms. At any rate, the Troy Hill neighborhood native says he's done his part to support the Steelers in their upcoming AFC Championship game tussle with the hated Baltimore Ravens.
Mr. Ravenstahl said the idea for the name change was not his own. Callers to the Star 100.7 morning show "called in and thought it would be a good idea to change from Ravenstahl, given we are playing the hated Baltimore Ravens this weekend, to Steelerstahl," he said. "As soon as I heard it, I thought it was a great idea."

He said he and his wife, Erin, and 2-month-old son, Cooper, "didn't really talk about it, but I'm sure they wouldn't mind doing it, either."
I called the Mayor's office and was referred to his press secretary. "She'll try to get back to you, but there's been a lot of reaction to this; it's been really busy around here," said David White, the Director of Public Affairs. That's something that Mr. Ravenstahl is used to, as it turns out.
Luke Ravenstahl fun facts:
• Played football in high school, tried to walk on at Pitt but didn't make the team.
• Transferred to Washington & Jefferson College, becoming the starting place kicker for three years and team captain as a senior. Still holds the school record for most consecutive extra points.
• Stahl is German for steel.
• On Halloween in 2005 at Heinz Field, got into an altercation with a Pittsburgh police officer and was led away in handcuffs, but released shortly thereafter. Because of the quick release, the incident is now known in Pittsburgh as "Heinz-gate."
• Other notable Washington & Jefferson graduate: NFL Commissioner Roger Goodell.
• All kinds of other controversies.
Ravenstahl grew up around football — he played for his father at Pittsburgh's North Catholic High — and often laments that he can't attend Steelers games in person because of all the media attention he draws. Can't see how he's going to pass up Sunday's game, however.
Under Spotlight Young Mayor Says He's Learning [The New York Times]
Mayor Wants To Drop 'Ravens' From His Name [Pittsburgh Post-Gazette]
Mayor Changes His Name To Steelerstahl [KDKA-2]