Physics figures large in high jump. Converting horizontal energy into vertical energy, torque, angle, and center of mass. But the most important concept, the one that's helped Chaunté Lowe make four Olympic teams and set the American record, is balance.
Case in point, just after grabbing the five golden rings for the fourth time (!), the 32-year-old mother of three, wife, grad student, day trader, and mentor tweeted a snapshot of her husband and kids at the beach with the caption, "Feeling like there may be something more important in life than Medals. #FeelingBalanced."
She's had a lot of practice. Consider that at 23, most people are stressed out making the fraught transition to adulthood. At 23, Lowe was a part-time student, about to graduate from Georgia Tech with a double major in economics and finance. She was already a four-time NCAA champion, the 2006 U.S. Outdoor champion, an Olympian, a professional Nike athlete, married to the love of her life, and recently, a mother.
"There's nothing in life more important than our children," Lowe said by phone from Orlando. "I looked up to my mom all my life—now I'm that person for my kids. It is intense. It's tough to train for an Olympic team because it takes a lot of time, a lot of focus on yourself, and your training. The best athletes have to be selfish, but you can't do that as a mother. I know if I ignore my kids for six months and I'm standing on that podium with a medal on my neck—that's a sad feeling."

So, how has Lowe managed to keep her spot as one of the top high jumpers in the world for 15 years—admittedly a selfish, time-demanding endeavor—while putting family first? This brief video of the elite athlete performing insane single-leg plyos in her garage while discussing a guinea pig, the world record, and a peanut butter sandwich, is a clue.
G/O Media may get a commission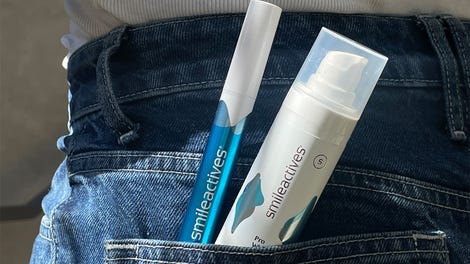 58% off
Whitening Powerhouse Pen & Gel Duo
The fact that after our lengthy conversation she calmly mentioned that her husband and kids were there with her in a Chick fil A waiting to go to the beach is another.
Lowe grew up with five sisters and one brother in Riverside, California. Her high school track coach insisted even sprinters run cross country in the fall. "I didn't like it," she said. "So I jogged for a while, then sprinted at the end because I was ultra competitive. I didn't want anybody to beat me."
Lowe, née Howard, had to try out for high jump in high school—the coach didn't want to lose her in the sprints. "I felt like that's [high jump] what I really wanted to do, what I was supposed to be doing. When I said I wanted to do high jump, coach said, 'Fine, you have to beat all our high jumpers.' He made me do the hardest sprint workout and the hardest distance workout, and I lifted weights, and did a mile cool down, and then I could try out for high jump. I jumped five feet, scissoring, and beat all the jumpers, so he was convinced."
A seven-time national champion in high school with a stellar academic record, Lowe was a top college recruit in 2002. She chose Georgia Tech, where she was coached by Nat Page, a partnership that lasted until 2013. "Her will to win was extraordinary," Page said. "The women ran with the men twice a week, and she was always trying to beat the guys, always pushing herself. Sometimes I had to remind her that the workout was about completing, not competing. When you have to struggle in your early life, sports is the easy part. She has a will to win more than most others—she applies that to sports and to life."
Carrying a full academic load, Lowe seemingly had no problem with the notoriously grinding NCAA competition schedule. In fact, after winning the 2004 National Indoor and Outdoor NCAA Championships, she moved on without a break to place second at the U.S. Championships. She competed at her first Olympics at the age of 20. "It was always my plan to qualify for the Olympics," Lowe said. "A girl from my high school—Nicole Dendy—went to the 2000 Olympics, so I was like, 'Wow, I want to do that!"
The summer after her junior year, 2005, Lowe earned a silver medal, jumping two meters for the first time, at the World Championships in Helsinki. She subsequently signed a pro contract with Nike. "I've been with Nike the whole time. They take great care of us—travel, gear, a stipend, physical therapy."
Even by her standards, 2005 was a busy year. She met Florida State triple jumper Mario Lowe at a track meet: "It was love at first sight. We knew immediately. We had a conversation that lasted until 4 a.m., went to church the next morning, and have been together ever since. We got married three months later. I wouldn't advise that for everyone, but it worked for us."
The 23-year-old pro athlete, wife, and student added parenting to that mix two years later. Daughter Jasmine was born July 30, 2007. "It was never a thought that I wouldn't come back," she said. "I wasn't injured, I was expecting. Although in each pregnancy, my abs split in the middle—an umbilical hernia—and each time I had to build them back up."

Those famous abs, the ones with their own zip code? "I don't do anything orthodox. My sisters and I will get online and do virtual workouts together—different dance moves. I rarely do sit-ups; it's all functional movement."
Though they could probably live off of her Nike stipend, prize winnings, and Mario's teaching jobs, Lowe feels better, more balanced, with a lot of irons in the fire. She's been a financial analyst for Coca-Cola, a high school trigonometry teacher—"I love math!"—and is currently a day trader with TD Ameritrade. She's also enrolled in an online Masters program, and expects to become a certified public accountant within the next 18 months. "I want to provide financial education for elite and Olympic athletes," she said. "It breaks my heart when I hear about athletes who had it all and blew it all because they didn't know what to do with that money when they had it."
Lowe's busy schedule means she awakes at 5 a.m. and gets most of her training in before her children wake up. "I don't want to take precious moments away from my time with them," she said to explain the early wake up call, "so I'm back home to see my kids off to school, help them get dressed, do their hair, make breakfast, pack their lunch." Once the kids have left the house Lowe finishes her workout, trying to get home "when the market opens at 9:30." After trading for a few hours she goes back to practice, does her online classwork, and waits for her children to get home. "I play with them for a few hours, make dinner, sit down with my husband, then go to bed, get up, and do it all over."
As to training: "It varies, there's no set number of jumps in a day," she said. "One day, five jumps, another day ten. I always have something specific I'm working on and if I master it on the second jump, I'm not going to drill myself into the ground," she said. If she feels a twinge, she stops for the day: "I'll go to the gym instead."
The Lowes moved from the Atlanta area to Orlando in 2014, and she scaled back her competition schedule to get the best treatment for her daughter, who was diagnosed with autism. Earlier this year Lowe announced her daughter no longer needed the program, and would be attending a mainstream kindergarten.

As for her eight-year-old daughter, this winter Lowe planned some one-on-one time. "It was four-day cruise in the Bahamas—we roomed together, swam together, ate together," reminisced Lowe. "I told her I knew it was going to be crazy in the spring and summer, and as much as this goal [the Olympics] would pull me away, I'm always here for her. She'll always come first for me. Her birthday is July 30, so I'll stay for that, then go to Rio."
Big news on the home front is that Lowe's days of changing diapers are finally over. "My youngest went poop in the potty, so we had a poop birthday with a cake," she said. "We've had about five poop birthdays but I think it's going to stick this time. He hasn't worn diapers in a month."
Lowe has been one of the top high jumpers in the country for about 15 years, an exceptionally long career. "I'm really blessed, I haven't been plagued with injury, never had surgery," she explained. "I make a point to sit down and talk with people who have done it [had a long career] better than anyone and try to grow from their knowledge—Bernard Lagat, Justin Gatlin." She ticks off some of the standard building blocks of longevity—drinking water, eating right, sleeping well—before advancing an unusual theory. "Actually, I think the pregnancies have saved me three years of wear and tear—it's like I'm 29, not 32," she posits. "They were nicely spaced out [2007, 2011, and 2013] and each time I came back mentally, physically, and spiritually rejuvenated."

High jumpers can have unusual relationships with the bar they attempt to soar over. Eighteen-year-old fellow high jumper Vashti Cunningham, for instance, has said that she conquers the bar by glaring at it. Not Lowe. "I never think about height, and I don't get close to the bar," she said. "It leaves room for doubt." She's tried "the intensity thing, being mean," but found it didn't work for her. "That's why the dancing, the back flips—I'm having fun."
Her lighthearted approach to the bar should never be taken for lack of focus, nor is she quite ready to pass the torch to Cunningham, the sport's heir apparent. "At this point we're competitors," she says, "I still want to beat her. But the mama in me comes out sometimes—I know the stress she's feeling, the doubt," Lowe says. "At the Trials, once we got down to three [jumpers still in contention], I gave her this look that said, Okay, we did it."