Before Game 4, a reporter spotted in Evgeny Kuznetsov's locker a bottle of Fuck Off pills. It's a gag gift—you know the sort of thing—even if I'm not sure exactly what the gag is supposed to be. But, uh, it might've worked. Because Kuznetsov went the fuck off, racking up four assists in the Capitals' 6-2 win over Vegas to put them one game away from a championship.

Ohtani has the WBC, but will Mike Trout ever lead the Angels to a championship? | Agree to Disagree
This postseason has been a coming-out party for Kuznetsov, a 26-year-old Russian in his fourth full NHL season, and his first centering the top line alongside Alexander Ovechkin. In 23 playoff games, Kuznetsov has 12 goals and 19 assists for 31 points, the second best postseason any player has had this millennium (behind only Evgeni Malkin's insane 2009.) If you want an even more recent comparison, Kuznetsov has outpointed both Malkin and Sidney Crosby in their last two Cup-winning postseasons.
Kuznetsov, if Washington wins one of its next three games, will win the Conn Smythe Trophy for playoff MVP. And he does not care. "What's that going to get you?" he asked reporters when they brought it up after last night's win. "Nothing, right?"
G/O Media may get a commission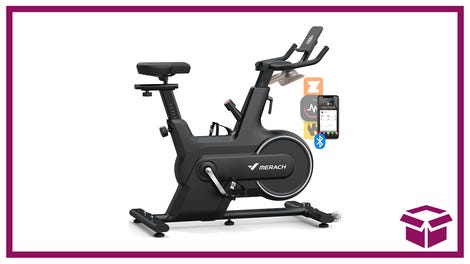 14% off + Coupon
Merach Indoor Cycling Bike
He appears fazed by nothing. He was asked if he's feeling nerves or pressure being a single win from a Stanley Cup, and he replied, "I never been there, you know? And I don't really care about that yet, so it's kind of easy for me."
Kuznetsov is a superstar and now everyone knows it. The Caps have known it all along. "He sees the game better than anyone else," declared John Carlson. Example: Kuznetsov's second assist of Game 4, finding Tom Wilson in the slot through heavy traffic.
"He just tells me to put my stick on the ice and he'll hit it," Wilson said.

Kuznetsov's preternatural vision has proven an ideal complement to Ovechkin's shooting, especially. Barry Trotz began the season by breaking up Ovechkin and Nicklas Backstrom, his centerman for the last decade. Trotz's reasoning was this:
By way of explanation one day on "The Junkies" morning radio show, Trotz said Ovechkin is "just a difficult player to play with."

"Everybody takes that the wrong way," Trotz said last week.

Well, uh, how should they take it?

"'O' is a player who can get himself in these little windows," Trotz said, "and if you don't get that puck to him there, then that window goes away."
Ovechkin responded with his highest point total since 2009-10. And in these playoffs, Ovechkin has recorded 14 goals and 12 assists in 23 games, finally putting to rest any last (stupid) doubts about his legacy.
It's not exactly ironic—because it makes sense—but it'd have been a surprise to Caps fans of the past that the Ovechkin/Backstrom–era Capitals finally found ultimate success only after splitting up Ovie and Backstrom. That's often how it works: The Penguins, by necessity of position, have been blessed with two elite lines because Crosby and Malkin can each succeed alongside just about anyone. And now, with Kuznetsov supplanting Backstrom, the 30-year-old Swede spent most of his season on the second line and responded with pretty much the same excellent numbers he's always put up. The brilliance of an emergent superstar isn't merely in the firepower he provides at the top, but the depth he offers by slotting everyone else down a line.
And this will be Kuznetsov's team sooner rather than later, make no mistake.
"People don't really know him as well as Ovi and you're seeing the talent of Kuzy," said Capitals head coach Barry Trotz. "You've seen the greatness of Ovi over the course of his career to this point. I think Kuzy's just getting better and better. He's taken a bigger piece of this team."
Kuznetsov was, ultimately, a bargain. The Caps drafted him 26th overall in 2010, knowing full well it'd be a long time before they ever got him in uniform. That might've scared off other teams and allowed him to drop, and indeed he played four more years in the KHL before coming to the NHL. But good things come to those who wait. And though few franchises in sports have waited as long as Washington fans have for what appears about to happen, this wait was worth it.