At The MMQB, Robert Klemko has a fascinating breakdown of the Seahawks' fake field goal that got them on the board and set the stage for their historic comeback. And it's incredible just how specific a scenario the Seahawks required to even give the green light for punter Jon Ryan to loft that touchdown pass to tackle Garry Gilliam—how close the Packers' lead was to remaining out of reach.
By studying the film, Seahawks special teams coach Brian Schneider discovered an exploitable trend on the part of Packers LB Brad Jones. Jones, especially in the previous week's game against the Cowboys, was extremely aggressive attempting to block field goals, cutting inside and ceding the edge. With that information Pete Carroll decided to go for the fake—but only if Jones was on the field, and only to Jones's side.
With five minutes left in the third quarter and Seattle still trailing 16-0, Carroll gave Ryan the go-ahead to execute a fake specifically designed for this game. Ryan had two options:

1. Take the snap and roll out to Jones' side with either Garry Gilliam (left side) or Luke Willson (right) as a receiving option. If the linebacker covers the receiver, Ryan should run. If not, throw it.

2. If Jones isn't on the field, take a delay of game penalty and then kick the field goal.
[...]

Jones showed up on the left side, which meant undrafted rookie tackle Garry Gilliam would get the throw if necessary. Gilliam, a converted tight end out of Penn State, hadn't caught a touchdown since high school.

"I broke the huddle like, Please be on my side, please be on my side," Gilliam says. "And then [Jones] was."
You can see what happened. Jones is No. 59, lined up second from the left edge.
I love hearing the backstory behind pivotal plays like this, for two reasons:
1. It shows just how much planning goes into a football game. This was a custom play that was just sitting in the Seahawks' playbook, with a minuscule chance of them ever finding themselves in a situation where they'd want to run it. There was every likelihood that something that required much care and creativity and film study and practice would never see the light of day.
G/O Media may get a commission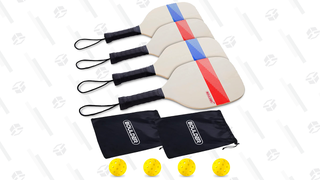 It's Pickleball
Pickleball Sets
2. It shows how complex and far-reaching the butterfly effect for any game, especially an improbable comeback, really is. The Seahawks don't win if Jermaine Kearse doesn't finally come down with a pass. But that doesn't matter if Green Bay could slow Marshawn Lynch. And that doesn't matter if the Packers recover an onside kick. Which wouldn't come into play if Morgan Burnett didn't slide after catching an interception. And none of this would have mattered if the Seahawks didn't get seven points on Ryan-to-Gilliam. Which wouldn't have even been attempted if Brad Jones wasn't on the field, and wasn't so predictable. Wheels within wheels.
A Very Special Win [The MMQB]