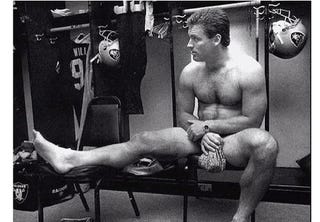 During Fox's canned-laugh reach-a-around football pre-game show, a photo of a young Howie Long spread-legged with an ice pack appeared and gave Frank Caliendo some fresh material to butcher. More importantly, it got the boys at OutSports' attention.
Jokes about manhood were made, opening the barn door for this observation from one OS employee:
To me it perfectly illustrates that whole vibe that still predominates when you have men in a physical sport being around each other naked, and yet if anyone mentions the obvious, everyone has to stamp it out immediately."
So true. I must go flush out my eyes and engage in some Lacrosse-style assholery.
****
Thanks for your continued support of Deadspin in the dwindling days of 2009. Your MNF open thread will appear soon after this one. Take it outside, if you're feeling punchy.