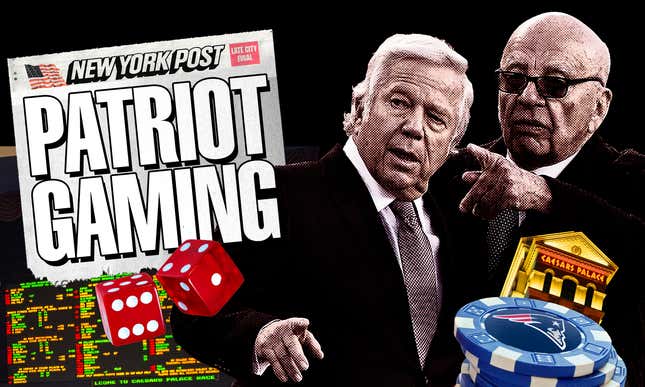 It goes without saying (hey there, Las Vegas Raiders!) that the NFL's gambling policy is a hypocritical mess. But now that I no longer work for Rupert Murdoch, I can plainly state that every word out of Roger Goodell's mouth about legalized sports betting for the past 20 months has been nothing but lip service.

Every lawsuit challenging it. Every threat to discipline players for so much as looking at a casino without permission. Every time Goodell used his pulpit to demonize gambling, or called it the sport's "number one threat," as he did in a 2012 deposition in his battle to prevent New Jersey from legalizing sports betting.
You can see for yourself. Just look up Patriots owner Robert Kraft with the Securities and Exchange Commission. Kraft is making money from casino gambling and sports betting, and the NFL knows all about it.
Why you didn't learn about this before—at least not from me—is a story of a media mogul and his company's golden goose, of the bulletproof owner of football's most dominant franchise, and of the perfect nexus of NFL soft power: television billions, one-percenter alliances, and a press corps too deferential to risk upsetting either.
In August 2015, I began asking the league to respond to a tip I'd received about Kraft as part of my job as an NFL writer and columnist for the New York Post. (A job I had for nearly 10 years, until a tweet about Donald Trump's inauguration got me fired.)
G/O Media may get a commission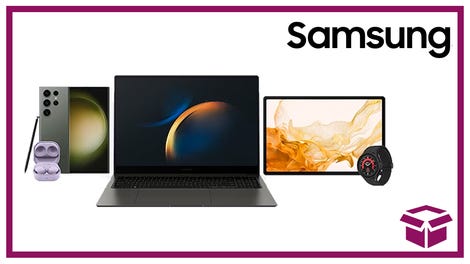 24 hour deals
Discover Samsung - Daily Deal
So at least since then, Goodell and the NFL's Park Avenue office have been aware one of their owners has been flouting its zero-tolerance ban on casino ownership—a mortal-sin prohibition that dates to the league's founding in 1920—with a backdoor investment in Caesars Entertainment, one of the world's largest chains of casinos and sportsbooks.
Kraft's support for legalized sports betting isn't exactly a secret. He and Jerry Jones remain investors in the DraftKings daily fantasy site, which is allowed under NFL rules. Both power brokers were influential in greasing the skids for the Raiders' recent relocation to Vegas with their fellow owners, many of them still queasy about putting an NFL franchise practically a stone's throw from The Strip.
But those are gray areas. This couldn't be more direct. Caesars Entertainment is an owner, stakeholder, or operator of 50 casinos and horse-racing tracks around the world, most under the Caesars, Bally's, Harrah's and Horseshoe brands. That lineup also features more than a dozen casinos in Nevada with sportsbooks accepting bets on NFL games.
For the last three years, Kraft has held a spot on the board of directors of Manhattan private-equity behemoth Apollo Global Management. Among Apollo's investments is one it made in 2008, when it teamed up with another private-equity outfit, TPG Capital, to buy a controlling 60 percent stake in Caesars.
Apollo agreed to eventually give up much of that stake as part of a messy bankruptcy fight that's ongoing. But even after that is finally resolved later this year, Apollo will still share a 16 percent investment in Caesars Entertainment, and will possess what Apollo describes as "significant" investments in the powerhouse British-based bookmaker Ladbrokes (which takes NFL action) and in American Gaming Systems, one of the world's largest manufacturers of slot machines and other casino games.

Kraft started amassing his current stake of 267,240 Class A shares in Apollo shortly after joining its board in May 2014, according to SEC filings. Apollo's latest annual report, filed with the SEC in February 2017, lists Kraft as one of just eight directors of the company. Only five other people, including founder and CEO Leon Black, own more shares in Apollo than does Kraft.
Both Caesars Entertainment and Apollo are publicly traded, and Kraft's investment in Apollo (worth approximately $7 million based on recent trading) is pocket change relative to an estimated $5.1 billion fortune that ranked the 75-year-old Kraft No. 102 on Forbes' most recent list of the world's richest people. Kraft doesn't hide his role with Apollo, either, listing his board spot in his bio in the Patriots' 2016 media guide. He's listed on Apollo's site as well.
Holding that position would appear to be a clear violation of the NFL's gambling policy. While the policy allows for owners to have minor investments in equity firms like Apollo that invest in casinos, serving as an officer or director of a "publicly traded enterprise" with revenue from "gambling-related operations" is specifically banned. Apollo has been a major stakeholder in Caesars Entertainment since January 2008. That means Kraft began openly violating the league's gambling policy the moment he joined Apollo's board three years ago.
Caesars Entertainment has rebounded strongly since emerging from a drawn-out bankruptcy process late last year, and its stock has almost doubled since last summer. As a result, Kraft already has his foot in the door well ahead of his fellow owners should the growing momentum to legalize sports betting around the country become reality. All of this, one imagines, wouldn't go over well with Sheldon Adelson, Tony Romo, James Harrison, Tim Rooney, Chris Christie or anyone else who felt Goodell's public wrath for their connections to legal sports gambling.
While the Raiders' relocation and the owners' recent decision to allow casino sponsorships and in-stadium casino advertising show the NFL is warming to legalized sports betting, Goodell continues to stick, often ham-handedly, to his official line that gambling is the mortal enemy of the sport's alleged integrity. And although the league has long made concessions to gamblers with the most detailed injury reports in sports, the ban on betting is as close as the NFL gets to a rule etched in a stone tablet.
Warnings about gambling are posted in every NFL locker room, and all league personnel are regularly cautioned to avoid casinos. The announcement in mid-April that dozens of players will be fined for participating in an arm-wrestling tournament at the MGM Grand Casino in Las Vegas without permission followed a lengthy legal fight with Romo (which the NFL won) over his bid to sponsor a 2015 fantasy football convention a casino-adjacent convention center. Members of the league's officiating crews are advised against vacationing in Vegas.
The league's zero-tolerance rule on casinos and gambling is even more strict for owners. In the most notable example, the NFL forced Tim Rooney—son of the Steelers' beloved founder and NFL icon Art J. Rooney—to sell his entire stake in the team in 2008 because Yonkers Raceway, which he owned, received a gaming license.
Even Mark Davis's move of the Raiders hasn't put a dent in the rule. The league recently shot down a potential investment in the franchise by casino mogul Sheldon Adelson—one of the world's richest men—because of his gambling connection, albeit only after leading Adelson on for months so his powerful connections in the state would prompt Nevada to contribute $750 million to a new stadium. Goodell has also been the face of a five-year court battle to stop Christie's plan to legalize sports betting in New Jersey, a case headed to the U.S. Supreme Court. Just three weeks ago, Goodell told The MMQB's Peter King, "We are not changing our position as it relates to legalized sports gambling. We still don't think it is a positive thing."
It was a completely different story when I approached the NFL about Kraft at the end of August 2015.
League spokesperson Brian McCarthy told me then that the NFL didn't consider Kraft's Apollo stake a violation of the casino ban because Caesars Entertainment is one of more than 100 businesses in Apollo's portfolio. McCarthy said the league rule is that ownership in a company like Apollo is appropriate so long as gambling doesn't make up more than five percent of its portfolio.
The league's gambling rules weren't public at the time, and McCarthy refused to provide me with a copy. He soon stopped responding to my inquiries. But the policy, which became effective in March 2014—two months before Kraft joined Apollo's board—and was still in effect through at least August 2015, when the most recent published policy is dated, is now publicly available.
It addresses the five-percent rule, but still appears to prohibit Kraft's presence on Apollo's board of directors. Emphasis mine:
NFL Personnel may own interests in publicly-traded enterprises where less than one-third of the enterprise's gross revenues or operating profit in any of the last three years is attributable to gambling-related operations, so long as the NFL Personnel does not own more than 5 percent of the company's stock and does not serve as an officer or director of the company.
As with all of its policies that aren't collectively bargained, the NFL gives Goodell plenty of wiggle room on gambling connections. It concludes by stating that "apparent or alleged violations of this NFL Gambling Policy ... will continue to be decided by the Commissioner or his designee on a case-by-case basis."

[Reached for comment by a Deadspin editor ahead of the publication of this piece, NFL spokesperson Brian McCarthy wrote, "This was not an issue then and is not now due to the small investment in Apollo Global Management, a publicly traded and diversified company with assets under management of nearly $200 billion." Patriots spokesperson Stacey James wrote that "being on the board of directors of a very large, globally diversified firm that owned one business that was in the lodging/gaming space does not violate any NFL rules."]
That Goodell apparently gave and is still giving Kraft a pass to sit on the board of an outfit with ownership in multiple sportsbooks and casinos—all while sticking a hard-line public stance against legalized betting—astonished longtime observers of league business.
"It opens the door for anyone [in NFL ownership circles] to be involved in casino gambling as long as you parse it enough," said Robert Boland, a professor of sports business and law at Ohio University. "This has the potential to open up the governing structure of the entire league."
Kraft binged on Apollo stock in August 2015, making seven purchases totaling 110,000 shares, worth about $2.1 million according to the NASDAQ historical database, in a span of just 18 days. He made single purchases on Aug. 7, Aug. 11, and Aug 12, two separate purchases on Aug. 18, and then single purchases on Aug. 24 and Aug. 25. In the last week of August, I began making calls to the league and the Patriots for my Post story. Kraft did not resume buying Apollo stock until November 2015.
August 2015 was also when Tom Brady and Roger Goodell faced off in a Manhattan federal courthouse for the first hearings on Brady's four-game Deflategate suspension. It was the biggest story in sports at the time, and also when tensions between Goodell, Kraft, and the Patriots were boiling. Two of my editors believed the timing of Kraft's Apollo buying spree—coming shortly after his once-tight relationship with Goodell had been obliterated by Goodell's handling of Deflategate—appeared spiteful. It also caused their interest in the story to skyrocket.
Post editors were talking about my story landing "the wood"—tabloid-speak for the blaring, front- and back-page headlines that are the paper's hallmark. I was told the story had also passed an intensive legal review from one of the attorneys the paper has had on call 24 hours a day since the Boston Marathon bombing's "Bag Men" headline debacle resulted in a defamation lawsuit and settlement.
I waited until just before the 7 p.m. first-edition print deadline to contact Kraft through his longtime spokesman, Patriots PR chief Stacey James. The delay was intentional, because I was afraid James would try to take the air out of my story by leaking a more favorable version to a more hospitable outlet. (Stories of the Patriots doing this are legendary on the NFL beat, though they never did it to me.)
James tried to convince me the story was no big deal and that Kraft's situation was within the NFL's rules. But the fact that James had uncharacteristically responded to my initial email within minutes, and then followed that up with a series of calls while on an outing with his children, indicated otherwise to me.
Roughly 30 minutes after I got off the phone with James, I received a call from Chris Shaw, the Post's volcanic, chain-smoking executive sports editor. I was told that "Mr. Murdoch" had ordered the story spiked. And not only was it dead, but I was angrily informed that I wasn't to ask why, or to pursue Kraft's casino connections any further. Then Shaw hung up on me.
[Reached for comment by a Deadspin editor, News Corp executive VP and chief communications officer James E. Kennedy directed the request to Rubenstein, which handles PR for the Post. A publicist declined to speak on the record or provide a statement. Chris Shaw did not respond to a request for comment. Patriots spokesperson Stacey James called the idea that Robert Kraft was involved in the story being spiked "categorically false."]
I was crushed, demoralized, and angry, but I was not surprised.
"Welcome to corporate journalism," consoled a friend and fellow reporter at the paper, who then passed along a few examples of his own.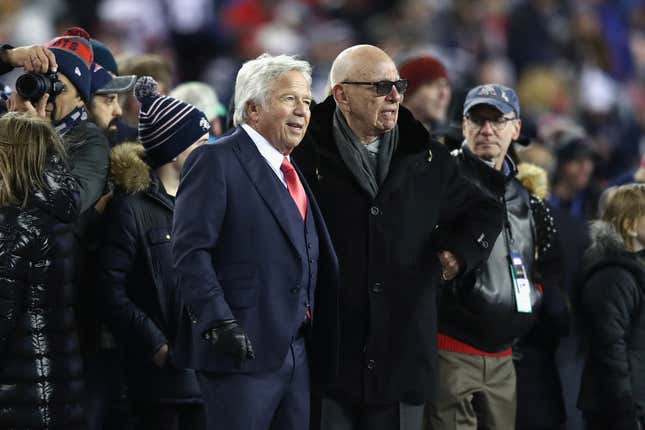 My first and still-lingering thought, fortified by later conversations with some old Post hands, is that Kraft—or his people—had gotten the story quashed by calling Rupert Murdoch, executive chairman of both News Corp (which owns the Post), and 21st Century Fox (which owns the Fox broadcasting network).
That Kraft and Murdoch are friends is no secret. Kraft has hosted Murdoch in the owners box at Patriots home games several times, including as recently as last season.
Kraft had once made it quite clear to me that he and my biggest boss were tight. It was 2010, and I was in Foxboro to cover the start of Patriots training camp in my first year on the NFL beat for the Post. Kraft summoned me to his office inside Gillette Stadium, where he promised me scoops about his team and the league because he was such good friends with "Rupert." Those scoops unfortunately never materialized (I believe because I went on to become a vocal critic of the Patriots' relentless rule-breaking and the favoritism shown them by the league), but Kraft had made his point.
Kraft and Murdoch are corporate partners, too. Fox now pays the NFL an estimated $1.1 billion annually on a TV deal that runs through the 2022 season, and infallibly reaps the highest Nielsen ratings in America and commands among the highest prices from advertisers. Kraft is the chairman of the NFL's Broadcast Committee, the small group of owners that negotiates the TV contracts with network heads. If the timeline of the last contracts is a guide, expect the NFL to sign its new TV deals within the next three years, which means negotiations are soon to begin.
Shaw spiking the story was even less of a surprise, considering it came a few months after orders had come from on high to start playing nice with Goodell. After I blistered the commissioner in a pair of columns on his bungling of the Ray Rice and replacement-ref disasters, word was relayed through my editors that I was to lay off Goodell for a while, because the media drubbing the commish was taking was "unfair."
I know Murdoch's hands-on approach from experience. Even though I went into the Post's Sixth Avenue newsroom only a handful of times in my decade there (in sports, only the editors have to work on-site), I crossed paths with Murdoch three times. Friends at the paper say he still suggests front-page headlines and calls in tips to Page Six.
You'd think the 86-year-old Murdoch would have his hands full running an international media empire, even when he's not extinguishing the latest Fox News bonfire, dealing with the fallout from hacking scandals, or whispering in the ears of presidents and prime ministers. But Murdoch is still an old-school tabloid guy at heart, and the Post—whose 1976 purchase brought him to America—is still his baby, and his favorite weapon to lob attacks at political and business rivals. That affection is why the paper still even exists, considering it reportedly loses millions.
Up until then, I had thoroughly enjoyed my time at the paper. The sports editor who hired me, Greg Gallo (son of legendary Daily News sports cartoonist Bill Gallo), had confirmed Allan's description of the Post as a "pirate ship" in my job interview. The Post also was a household name, and the freedom to editorialize at will was unlike anything I'd ever known at my previous staid newspaper stops. Sure, the job involved making a lot of mountains out of molehills for the sake of a splashy back page, but it fit my style. And many of those angles and headlines are truly funny, welcomed by an audience that's smarter than it gets credit for. Even a lot of the athletes I covered appreciated the schtick.
All that changed when my story was spiked and I was ordered to act like it had never happened. I continued to stew, even mentioning the incident in my annual performance self-review, and brought it up often enough that an exasperated Chris Shaw finally called me in the summer of 2016 and screamed "STOP ASKING! DROP IT!"
That incident, combined with the Post's ghastly support of Donald Trump, was pretty much the last straw. My heart wasn't in carrying the paper's flag anymore, and it showed in some tweets that had my wife and friends asking me if I was subconsciously trying to get fired. It was still a shock when I actually did get fired; I filed a lawsuit against the paper that I later withdrew.
I still miss some of the people there, but a lot of ways, it really was a relief. I sleep easier at night knowing that I'm no longer doing Rupert Murdoch's dirty work. And I finally get to write this story.
---
Bart Hubbuch is an award-winning sportswriter with nearly 30 years experience as a beat writer and columnist at major, metro newspapers covering the NFL, Major League Baseball and the NBA. He's also been known to share an opinion or two on Twitter.