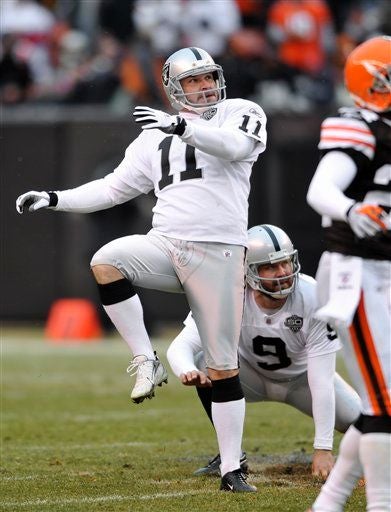 Let's face it: week 16 is the most crucial week of the season. This year was no exception, as division champs were crowned, alternate January plans were made, and Sebastian Janikowski nailed a historic kick in a meaningless game.
•Steelers 23, Ravens 20. Pittsburgh was up 10 at the half, but the defense stepped up in the fourth quarter, keeping Baltimore off the scoreboard long enough for the go-ahead FG. Joe Flacco turned the ball over on his first and last possessions of the game, and the AFC playoff picture gets very muddy.
•Buccaneers 20, Saints 17. Somewhere, John Carney is tenting his fingers and cackling. His replacement, Garrett Hartley, missed a 37-yarder at the end of regulation, and Connor Barth nailed a 47-yarder in overtime. The Saints blew a 17-0 lead, and Pierre Thomas left at halftime with bruised ribs, but what really has to scare Saints fans is that their team has been outscored by four over their last four games.
•Patriots 35, Jaguars 7. Here's why late game stats are misleading: when David Garrard rushed for a TD in the fourth quarter, it brought Jacksonville within 28 points. Randy Moss had only 4 catches, but three of them were for scores as New England clinches the division.
•Bengals 17, Chiefs 10. It wasn't pretty, but it didn't have to be. Cincinnati clinched the AFC North on the strength of 133 yards from Cedric Benson, and a Carson Palmer led drive that went 98 yards and took up half the fourth quarter.
•Packers 48, Seahawks 10. Green Bay clinches a wild card spot with a brutal beatdown of a hapless Seattle team. Atari Bigby had two of the Packers' 4 interceptions, and Ryan Grant rushed for 97 yards and two scores.
•Panthers 41, Giants 9. The Giants send off their stadium by giving up the most rushing yards to a visitor at the Meadowlands: 247, 206 of which were Jonathan Stewart's. Four scores on Carolina's first four possessions, and four turnovers for the G-Men mean they'll need a miracle to make the playoffs.
•Texans 27, Dolphins 20. Only one team could stay in the playoff picture, and it happened to be Houston. The Texans were up 27-0 at one point, and Miami just ran out of time. Arian Foster(!) outrushed the Dolphins all by himself.
•Falcons 31, Bills 3. Two teams going nowhere give us an entirely forgettable matchup highlighted by Roddy White's 139 yards. Falcons fans, does it make you feel any better that your team is 7-5 with a healthy Matt Ryan? And Bills fans, does it make you feel any better that Terrell Owens is only the sixth player to reach 1,000 catches?
•Browns 23, Raiders 9. The epic Derek Anderson/Charlie Frye matchup went pretty much how you'd expect. Jerome Harrison is making his case as a starting back, springing for 148 yards and a score. Sebastian Janikowski kicked a 61-yard field goal at the end of the half, good for fourth-longest all-time.